San Francisco 49er running back Frank Gore is known for his running and today he is being called out for his legs - as in, showing too much of them.
According to official NFL rules, NFL players are required to wear their socks high enough to meet up with the bottom of the uniform pants. Gore didn't follow the rules during Sunday's NFC Championship game in Atlanta and that has been noted by the NFL.
The NFL fined Gore $10,500 for a "uniform violation," according to ESPN.
The NFL does not publish violations or fines, but they usually get out.
As you can see in the above photo (and to the right), Gore played with his socks rolled down at least a foot below the bottom of the uniform.
So far there has been no comment from Gore or the team.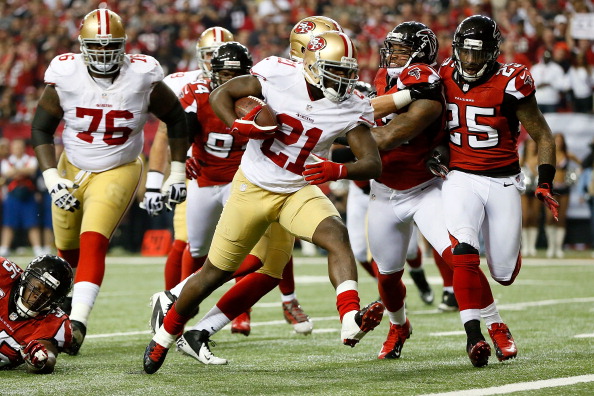 Fines are part of the game these days.
This was not Gore's first violation of the season. He also was fined for flinging a football into the stands during the Arizona game at Candlestick. NFL.com reported that was also a $10,500 violation.
Our partners at CSN Bay Area said it was his second wardrobe violation, having to pay $5,250 for a violation earlier in the season.
The fine took a big chunk of our Gore's bonus payment for being in the playoff game. He earned an additional $40,000 Sunday.