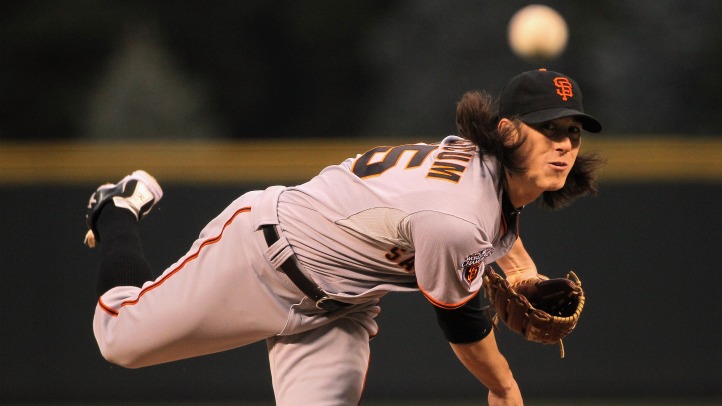 It seems safe to say that Tim Lincecum rolled with the early lead his teammates gave him -- the Freak was straight dealing on Monday night and took a no-hitter into the seventh inning before Carlos Gonzalez ripped a single and ruined a chance for Lincecum to grow his legend further.
CarGo's hit, and the subsequent run-scoring Todd Helton double, didn't matter, though, because the Giants had Esmil Rogers' number from the get-go, and hung eight earned runs on him just three short innings. (Or long innings, I suppose, if you're Rogers.)
Aubrey Huff started it off by singling Freddy Sanchez home, and then Pat Burrell and Nate Schierholtz hit back-to-back jacks against Rogers, who'd gone 20-something innings without allowing a homer.
His next streak didn't last too long, either, as Sanchez a solo shot off of Rogers the very next inning. A few wild pitches, walks and runs scored in the third and Rogers was chased.
Oddly enough, the Giants managed just two hits the rest of the way against Clayton Mortensen who pitched six strong innings of relief for Colorado. Note that this is actually kind of crucial: continuing to beat up on the Rockies bullpen would have made things much easier the rest of the way in the series; Rox fans should be thanking their stars Mortensen was as good as he was on Monday.
He wasn't nearly as good as Lincecum, though, but, hey, who is on most nights?
And on a night when The Freak decides to pitch to near perfection? No chance. It was the second time in Lincecum's career that he's taken a no-hitter into the seventh inning and the 28th time that he struck out 10 or more batters.
As we've previously mentioned, that means he's now tied with Giants legend Christy Mathewson for the most 10-K games in franchise history. Yes, it's a safe bet that he'll end up with the most ever at some point this season.
But everything didn't come together, and Lincecum lost the no-no and the Giants didn't force the Rox to wear out their bullpen. That's unfortunate, but it's okay.
Because at the same time, it's abundantly clear that San Francisco came to play in perhaps the biggest early-season series of the year -- Dodgers' rivalry be damned, it's looked thus far that Colorado's the biggest obstacle in the Giants' hope to repeat as NL West champs.
And if Monday is any indication, there's plenty of reason to believe they can.