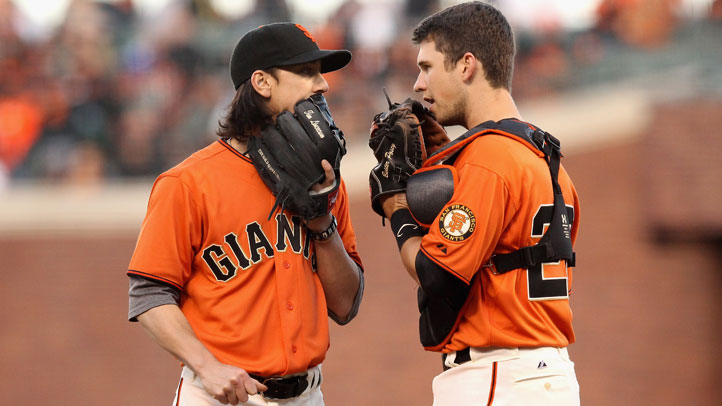 On Monday, I took my morning to break down Tim Lincecum's bizarre problems with "one really bad inning" each game. The theory that came out of that is Lincecum's struggles are strictly mental ones.
Chris Lincecum, Tim's dad, would wholeheartedly agree, telling Alex Pavlovic of the San Jose Mercury-News that Lincecum "doesn't have a lot" of confidence right now and it's causing his struggles.
"It's real simple -- success breeds confidence," Chris said. "He doesn't have a lot of that right now."
Lincecum's father is the one who gave Tim his funky, kinetics-based pitching mechanics, the same one that Chris used when he was a talented college pitcher. And Chris believes Tim is doing just fine, mechanics-wise, and he'd be "a happy camper" if it was Opening Day and Lincecum could start fresh.
"I think he has mostly got it figured out," Chris said. "If this was the first day of the season, I'd be a happy camper because the mechanics are very good. He just needs to trust his stuff."
Chris has some ideas about how to fix what Tim's doing, but the two don't talk about pitching as much as they used to (this is what happens when your son wins two Cy Young Awards ... he's kind of the pitching expert).
"He just has to be more aggressive, especially on inside pitches," Chris said. "A few singles and walks and it all kind of comes apart. Let's give the batters some credit here. They know by now what his stuff is -- they're just sitting on the changeup."
Batters do deserve credit, but if you go back and chart Lincecum's blow-up innings, it's clear that it's a result of mistakes getting made and Lincecum getting wild.
Yesterday I made a golf analogy with respect to Lincecum's issues, and I think it still applies, especially when it comes to building confidence -- what Timmy needs more than anything right now is to get through a round without shanking a ball off the tee.
One game without a big blow-up inning would do wonders for his confidence.