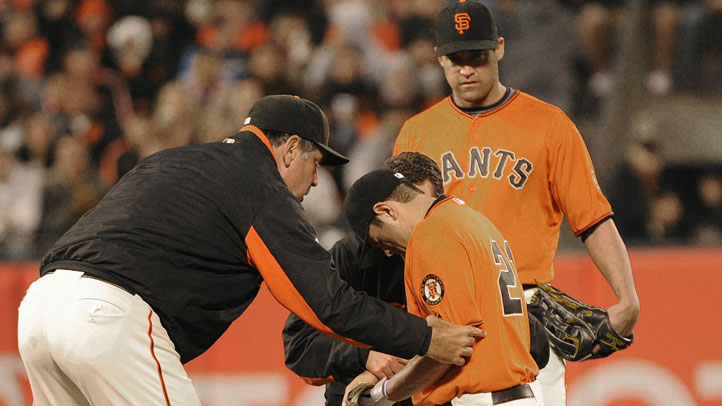 Given that Freddy Sanchez hasn't stepped foot on the MLB diamond this season, it shouldn't be a huge shock to find out that he's done for the year.
But it's now official, as Sanchez underwent back surgery to remove a disk. And it could mean the end of his Giants career, though manager Bruce Bochy was "optimistic" about the possibility of retaining the 36-year-old veteran.
"We still remain optimistic that we can have him," Bochy said, per Chris Haft of MLB.com. "But this is a definite, now, that he won't be back this year."
Sanchez got a one-year, $6 million deal before 2012 after playing just 60 games in 2011. The second baseman was critical to the Giants success in 2010, providing a spark in the postseason as the team won the World Series.
"He certainly played a critical role with that base hit," Bochy said of Sanchez late-game heroics against the Braves in 2010's Game 3 of the Divisional Round. "It would have been a lot tougher had we lost that game. That obviously was one of the bigger hits in that postseason."
Once upon a time, Sanchez won a batting title with the Pittsburgh Pirates. Now it looks more than likely that he could be done with baseball.
It's certainly possible that Sanchez could end up returning to play another season, but this is his third surgery in three years, so he's already playing on borrowed time as it is.
That possibility remains a hypothetical, though. The only certainty is that the Giants won't get to use Sanchez this year.