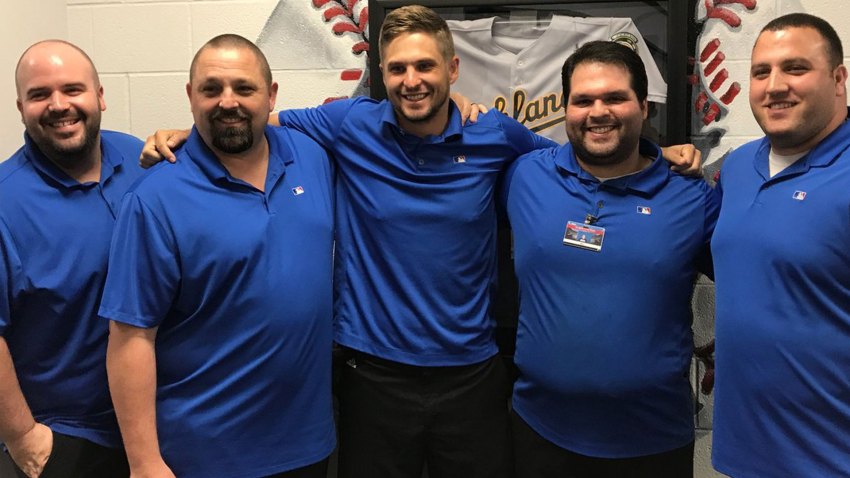 ARLINGTON, Texas - Rather than sit around through four days of inactivity, Kendall Graveman put himself to work in a lighthearted way this weekend.
The A's right-hander has spent the past two days helping out the clubhouse staff that services the visiting team at Globe Life Park. Dressed in a blue polo and black shorts, just like all the other clubbies before Saturday night's game against the Rangers, Graveman did everything from serve Liam Hendriks his quesadilla to finding a pair of lost underwear.
What inspired such a maneuver? Graveman made his final start Wednesday at the Coliseum, so there's not a whole lot on his to-do list during this season-ending four-game road series.
"They were down a guy (on the clubhouse staff)," Graveman said. "I obviously don't have much going on. A lot of the things they do goes unnoticed, from washing dishes, to laundry, to finding lost items.
"Obviously, it's a little bit comical on my end. But these guys do a lot. Without the clubbies around the league, things wouldn't run as smoothly as they do. … They're here two hours after we leave and they're here before we show up, getting everything ready."
Graveman is one of the more humble and down-to-earth big leaguers around. Dressed for the part, Graveman meshed right in as he walked through the clubhouse sincerely looking for things to do. He even posed for a picture with all the other visiting clubhouse attendants. And his gesture to help out, though lighthearted, was much appreciated.
"I love it. It shows what kind of guy he is," said Kelly Terrell, the Rangers' visiting clubhouse manager. He's always been good to us."
One of Graveman's more serious chores: Washing a pair of pants for first base coach Mike Aldrete after he spilled something on them.
"You don't see it very often," Hendriks said of Graveman making like a clubbie. "But he does off-the-wall things - randomly."
Manager Bob Melvin raised one concern over the new duties of his No. 1 starter.
"I hope it's not one extra guy I have to tip."
Copyright CSNBY - CSN BAY