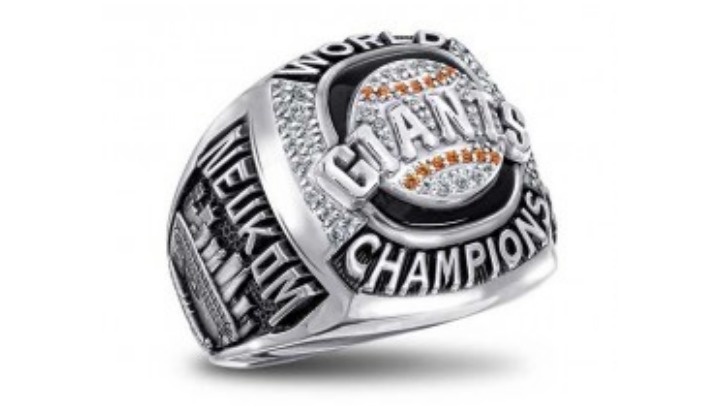 Over the weekend, the Giants celebrated their World Series win with a special ring ceremony.
All the current Giants who played in 2010 were awarded some pretty shiny jewelry, and eventually those who played on the team last year and moved on will get theirs too.
But, why should just players get to celebrate a fantastic season with some expensive jewelry? What about the fans? Well, there's an option for that too, courtesy of Balfour Sports:
It's Big. It's Huge. It's GIANT! Our exclusive Giants World Series Super Fan Ring hits it out of the park for the ultimate Giants fan. It features the widely recognized San Francisco Giants logo framed by a white and orange diamond baseball on top of a classic black onyx stone. Brilliant silver engravings on the ring depict AT&T Park, the World Series trophy and the words "Giants World Champions"!
And yes, if you guessed "Aren't those the guys that make class rings?" you get a point.
But you also get a pile of options -- just like when you were picking out some gaudy jewelry that you wouldn't actually ever wear in support of your alma mater -- when it comes to the value of the ring.
The ring starts at $429 if you want cubic zirconia and sterling silver, and it can get up as high as $3,570 for 14K white gold and actual, real-life diamonds.
It's worth mentioning as well that the Super Fan Ring, per Ernie Pomin of SB Nation Bay Area, isn't exactly the same as the rings the Giants got.
Balfour's version has a mock-up of the San Fran skyline (the team's version has the Golden Gate Bridge), and the Balfour version has a diamond-studded "GIANTS" on the front, instead of the "SF" logo that came with the official version.
So, yeah, support the team and buy one. Or buy one for a "Sure, I'm Pat Burrell" ruse.
Or just go enter the raffle for a real ring and laugh at all the poor people who have to pay more than $2 for feeling like a part of the team.