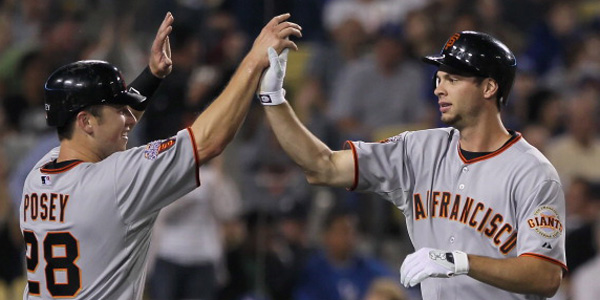 It's a pretty commonly-held notion that the Giants farm system is pretty bare.
And I'm not here to refute that. However, it's probably worth noting, I think, that the Giants had a lot of success across the board in 2011, checking in as the third-most winning organization in all of baseball last year.
That's according to the always-excellent Craig Robinson of FlipFlopFlyin.com, who put together an infographic of every organizations winning percentage in 2011.
Here's a screencap of the Giants snippet, though I highly recommend checking the whole thing out:
As you can see, the Dodgers were also good, so maybe we shouldn't make too much out of it. Additionally, the Giants' number is skewed a pretty good deal by the Arizona League Giants (rookie ball) who went a ridiculous 48-15 this season, good for a .732 winning percentage and that giant pink bar you see above.
But all told, only two of the Giants teams in the entire organization were below .500 for the year -- the Fresno Grizzlies (AAA) and the Salem-Keizer Volcanoes (A).
The Grizz finished 65-79 and there's probably a built-in excuse for Fresno because of how many players were eventually required at the big-league level.
And yeah, this doesn't mean the Giants were the third-best team in baseball, and, yeah, the MLB team makes up the substantial percentage of this ranking. But it's at least a decent counterargument to the idea that the Giants stink at the lower level.