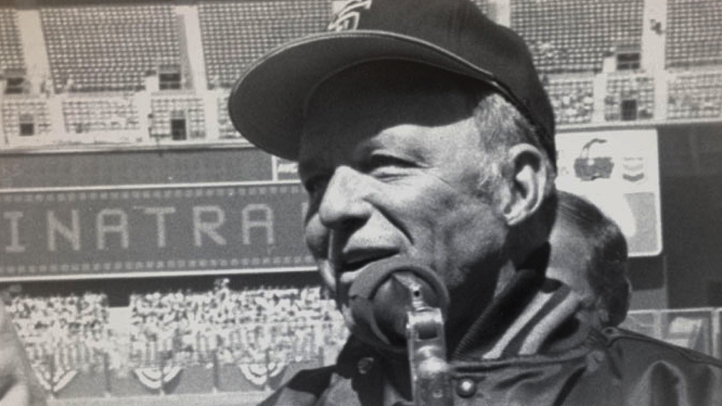 Frank Sinatra might be known for crooning about the city of New York, but "Ol' Blue Eyes" also enjoyed spending time on the West Coast, often taking in Giants games at Candlestick Park.
And the Giants will honor the famous singer tonight with a "Frank Sinatra Tribute Night" at AT&T Park.
"We are pleased to celebrate and honor the legacy of the great Frank Sinatra, an American icon, whose music transcends generations," Larry Baer, Giants CEO, said.
It's a fitting tribute since Sinatra, a personal friend of Giants great Willie Mays, was a big baseball fan throughout his life.
"Dad was a lifelong baseball fan dating back to his boyhood in Hoboken, New Jersey," said his daughter, Tina Sinatra. "He was certain to pass on his love of the game to us, and attending season after season with Dad became a lasting tradition in the Sinatra family, and still is. Many thanks to the San Francisco Giants for this special tribute ... it would mean so much to him."
Fans who purchase special event tickets will be get a slew of Sinatra-related activities as part of the package.
"All fans attending the game will be treated to pre-game entertainment, along with in-game activities themed around Sinatra and his legendary music," the Giants announced in a release. "A special interactive social media campaign will allow fans to vote for their favorite Sinatra songs. These songs will be incorporated into the evening's festivities."
Even better: fans who purchase those tickets will sit in a special "Frank Sinatra" section of the ballpark and pick up a Sinatra-styled bobblehead. And, for the first 20,000 fans, a commerative Frank Sinatra-Giants themed poster.