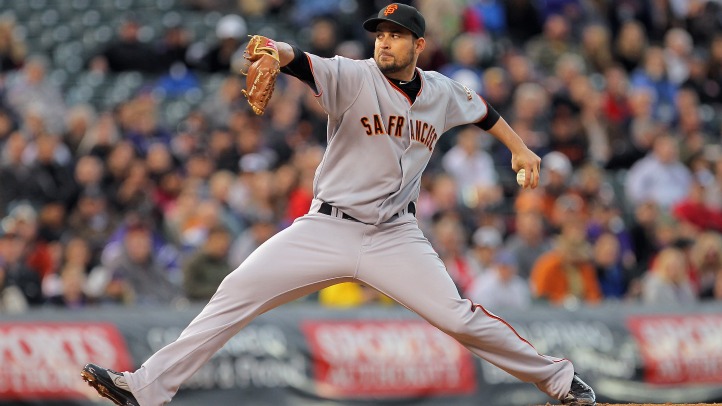 DO NOT make the San Francisco Giants angry.
Or something -- the Colorado Rockies streaked out to the best record in the majors heading into the current series with the defending-world-champion Giants and then ran into the buzzsaw that is probably the best pitching staff in the major leagues.
On Monday it was Tim Lincecum and on Tuesday, Jonathan Sanchez dominated over 6 1/3 innings, allowing just two hits, two earned runs (both of which came in the seventh), four walks and striking out four to pick up the win.
It didn't hurt that -- once again -- the Giants decided to spot their starter some serious offense early, scoring four runs in the first inning, behind a three-run jack from the surging Pablo Sandoval.
"It's great when you start the game 4-0," Sanchez said. "You can just go out there and pitch, throw the ball and see what happens."
Such a start is particularly great when the opposing pitcher is the potentially baffling Ubaldo Jiminez, who struggled in his return from the disabled list and might not have had his full velocity back just quite yet.
"He didn't have that 98 mph fastball he had last year," Huff said of Jimenez. "Obviously, coming off the DL he's probably just feeling it out a little bit. Still had some great offspeed stuff tonight. Pablo jumped on him but he pitched well after that. After that first inning he kind of settled down."
Jiminez deserves credit, though, for settling down to pitch what would become five strong innings.
Speaking of settling down, how bout the pitching staff absolutely shutting down would-be-early-season MVP Troy Tulowitzki? The Rox superstar shortstop is 0-fer on the series so far and somehow coming back to Earth after starting the year like a man possessed.
"It would be nice to not spot them four runs," said Tulowitzki. "It's a tough uphill battle for us, especially with the pitchers that they have.
"(Wednesday is) an important game. You don't want anyone coming in here and sweeping you. At the same time, it is April still."
It might be April. Actually, check that -- it is April, so Tulo's justification of the Giants strutting into Coors, slapping the Rockies around in the first two games of this series and reminding them who's the defending division champions totally holds up.
But these wins -- against the other "best" team in the division -- still count to the final tally whether they come in April, May, June, or whenever.
And if the Giants can pick up another one of these measly April wins on Wednesday, they'll have made a serious early-season statement to a serious division rival.