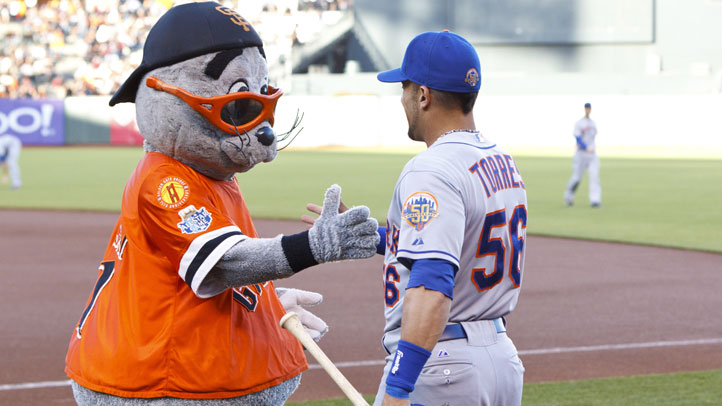 The Giants are bringing back another familiar face on a World Series championship team. Only it's the 2010 World Series championship squad this time: San Francisco re-signed outfielder Andres Torres on a one-year, $2 million deal.
CSN Bay Area's Giants Insider Andrew Baggarly reports all that's left is a physical and Torres will be back on the Giants roster.
Torres was one of two subtle trades that the Giants made last offseason. They dealt Jonathan Sanchez to the Royals for Melky Cabrera (we've covered how big a steal that is ad nauseum) and moved Torres and Ramon Ramirez to the Mets in exchange for Angel Pagan.
Um, that worked out OK -- Pagan had one of the best seasons of his career and the Giants re-signed him this offseason.
Torres wasn't horrible, per se, but he didn't exactly light things up, hitting just .230 with three home runs and 13 stole bases. By contrast, during the 2010 World Series run, Torres hit .268 with 16 home runs and 26 stolen bases.
When Torres returned to AT&T Park with the Mets in 2012, he received a huge ovation from the crowd.
And the Giants get the best of both worlds now: they fleeced the Mets so bad that they managed to keep both the players involved in an outfielder-for-outfielder swap.
Torres won't return to play centerfield, of course. That's Pagan's job. Instead, Torres will step in and fill the platoon void with Gregor Blanco in left field.
It's a slight gamble, but it's one that makes sense. Torres isn't the perfect every-day player by any stretch, so using him in a platoon role makes sense. If he gets hot, he'll get more reps.
And if Pagan gets hurt, Torres knows how to play some center at AT&T, and can step right in.
This means the Giants are out on Nick Swisher as a possible addition, and that's not good for baseball-hitting purposes, but it's not bad for financial planning as well as team chemistry.
And if this signing pays off like the last few outfielder-related moves by Brian Sabean, it'll probably look genius midway through 2013.