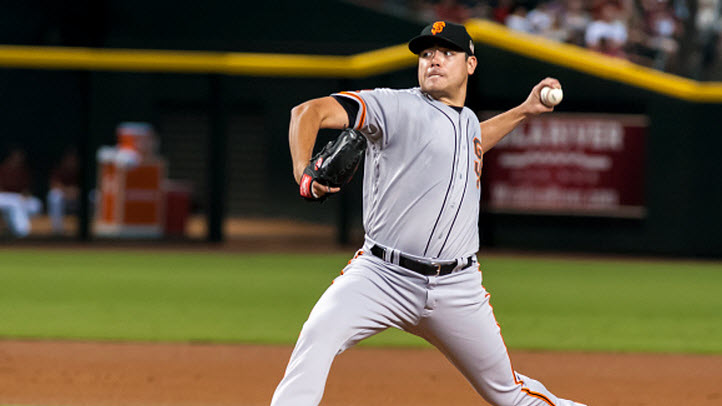 PHOENIX — A sweep of the Diamondbacks allowed the Giants to take the best record into Major League Baseball's All-Star break. Another weekend with Arizona seems to have turned the troublesome second half around.
The Giants won 5-3 at Chase Field on Sunday, clinching their first sweep and three-game winning streak of the second half. The weekend was a fruitful one for the second-place team in the NL West. The Giants picked up a game for the second time in three days, and they're now just three back of the Dodgers.
The Giants scored on Sunday's second pitch. Denard Span blasted a Zack Greinke fastball into the seats in left for his 10th homer of the year. Arizona tied it in the second and jumped ahead by a run in the fifth. Greinke has been nearly unbeatable for the Giants, but he fell apart in the sixth.
Angel Pagan led off with a 10-pitch walk. After a Buster Posey fly ball to the warning track, Greinke walked Brandon Crawford and Hunter Pence to load the bases. Brandon Belt tied the game by poking a good two-strike curveball into shallow left. Joe Panik's groundout to first gave Matt Moore a 3-2 lead.
Moore took advantage of the support, striking out the side in the sixth on just 11 pitches. The Giants rewarded him with two more runs, both coming on Pence's double.
Things got a little hairy in the eighth, but Hunter Strickland entered and completed a four-out save.
Starting pitching report: Moore tied a career-high with 11 strikeouts. He allowed two runs in seven innings, throwing 109 pitches.
Bullpen report: Will Smith blew Jake Lamb away in the eighth. He's looking more and more like part of the solution.
At the plate: Span has double-digit homers for the first time in his career. His previous high was eight, set in 2009.
In the field: Two guys dressed as dinosaurs sat behind the plate but they were removed because they were obstructing views.
Attendance: The Diamondbacks announced a crowd of 26,008 human beings who did not appear to want to be at a Diamondbacks game.
Up next: A series the Giants should sweep. Jeff Samardzija, Albert Suarez and Madison Bumgarner take on San Diego's Paul Clemens, Clayton Richard and Luis Perdomo.