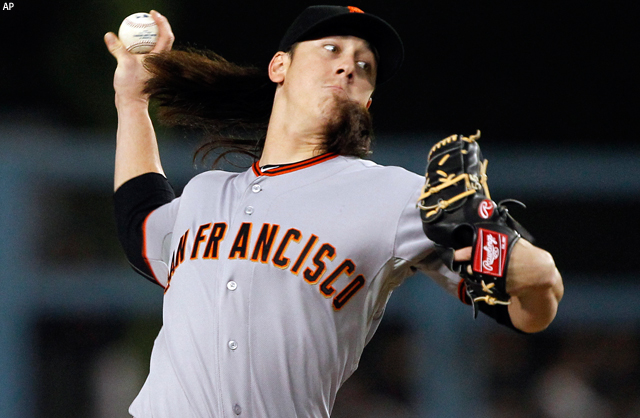 Clayton Kershaw became the Los Angeles Dodgers' first 20-game winner in 21 years, beating San Francisco 2-1 on Tuesday night and pushing the Giants closer to elimination from the NL West race.
Kershaw (20-5) allowed six hits and one run in 7 1-3 innings, walked two and struck out six to go 5-0 against the Giants this season - the first Dodgers pitcher to do so since Vic Lombardi in 1946. He did it on what would have been Lombardi's 89th birthday.
Four of those victories came against two-time NL Cy Young Award winner Tim Lincecum, with Kershaw allowing one earned run in those games. That came on an eighth-inning homer by Chris Stewart.
Kershaw issued his only two walks after Stewart's one-out homer. Kenley Jansen relieved him, striking out pinch-hitter Pablo Sandoval and Carlos Beltran on a called third strike to end the inning.
Javy Guerra pitched the ninth to earn his 19th save in 20 chances.
Lincecum (13-13) extended his career-high loss total, giving up two runs and eight hits in seven innings. He struck out five and walked three. The right-hander got two or fewer runs of support for the 20th time in his 32 starts.
The loss ended the Giants' eight-game winning streak and dropped them another game behind Atlanta and St. Louis in the NL wild card race. They trail the Braves by 4 1/2 and the Cardinals by two with eight games to play.
Jerry Sands homered leading off the second inning to help the Dodgers win their fourth in a row and move a game above .500 for the first time since April 29 against San Diego. James Loney's RBI single with two outs in the first gave them a 1-0 lead.
Kershaw became the first Dodgers pitcher to win 20 games since Ramon Martinez went 20-6 in 1990. The left-hander extended his winning streak to a career-high eight games and improved to 12-1 in 16 home starts.
Kershaw departed to a standing ovation with one out in the eighth.
The Dodgers picked off baserunners three times, with Kershaw involved twice.
Dodgers slugger Matt Kemp went 2-for-2 with two strikeouts, giving him a career-high 182 hits this season.
NOTES: At 23, Kershaw became the second-youngest 20-game winner in Dodgers' history behind Martinez, who was 22 in 1990. ... Kemp was chosen by his teammates as winner of the Roy Campanella Award, given to the Dodgers player who best exemplifies the spirit and leadership of the late Hall of Fame catcher. ... Lincecum fell to 0-3 against the Dodgers this season.

READ MORE ON CSNBAYAREA.com