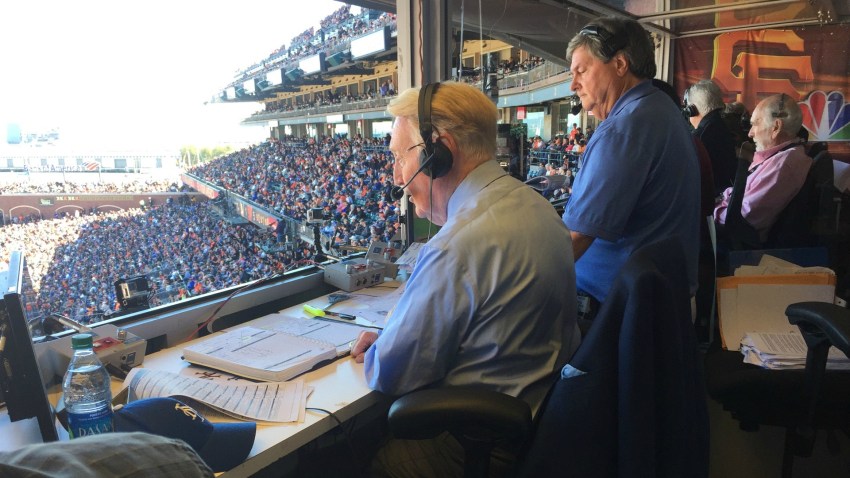 From a legendary send-off to a postseason push, the final day of regular season baseball at AT&T Park in San Francisco was jam-packed with action.
While the Giants clinched the second and final spot in the National League Wild Card game, the baseball world bid farewell to Vin Scully, one of the most regarded broadcasters the game has ever seen, during Sunday's afternoon contest.
Asked how we was feeling before his final call, the 88-year-old broadcaster was feeling as good as ever.
"Wonderful, absolutely wonderful," Scully said. "Especially (here) with my friends, the Giants."
Scully has made a living in the booth calling Dodgers games for an unprecedented 67 years and even though his Southern California team is advancing to play in the postseason, he has reiterated that Sunday's contest will be the last ballgame in which he will stand behind the microphone.
KNBR, the radio broadcast home of the San Francisco Giants along with CSN Bay Area paid tribute to the iconic voice of the Dodgers by simulcasting Scully's call of the third inning on their networks. The San Francisco Giants organization also mounted an honorary plaque in the visitors broadcasting booth to forever memorialize Scully's contributions to the game.
Despite his roots with San Francisco's archrival, Scully has etched his name in Bay Area sports history. He was on hand to call the 1982 NFC Championship Game between the 49ers and Dallas Cowboys, a contest that is famously remembered for "The Catch."
On the field, San Francisco jumped out on the Dodgers early and never looked back. The Bay Area squad tallied seven runs, five of which came in the first two innings, and eventually rolled to a six-run victory over Scully's Dodgers.
San Francisco will have a few days off before traveling to the Big Apple to take on the New York Mets in the National League Wild Card Game.
Meanwhile, the Scully-less Dodgers will have four full days off before heading east to challenge the Washington Nationals in the National League Divsion Series.