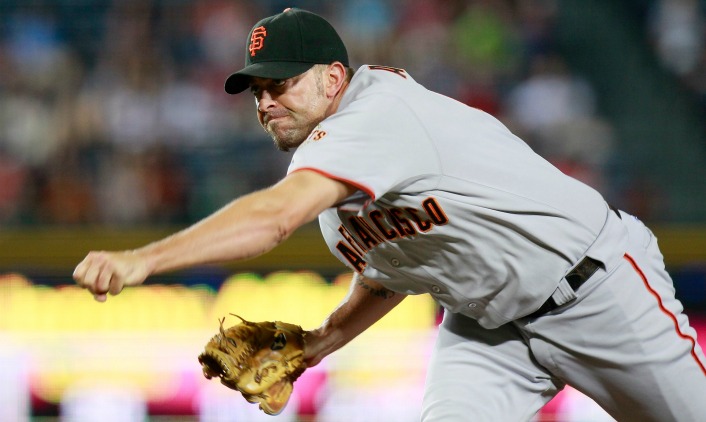 Offense is the Giants biggest offseason concern, but the team is taking care of the bullpen first, after announcing that they got lefty relievers Javier Lopez and Jeremy Affeldt locked in for 2012.
Lopez, who was scheduled to become a free agent, signed a two-year, $8.5 million deal.
"I wrestled with wanting to test the waters, but ultimately trying to get back to the playoffs with these guys really made the decision easy," Lopez said to Chris Taft of MLB.com. "The pitching staff from top to bottom is special and being able to be a part of that excited me, too.
"Knowing the coaching staff and how [manager Bruce] Bochy and Rags [pitching coach Dave Righetti] use us helped as well. Getting Buster [Posey] and Freddy [Sanchez] back will really be nice. Both guys can only add to our offense and they were really missed."
During the 2010 season, Lopez made $2.375 million and earned it, going 5-2 with a 2.72 ERA in 53 relief innings pitched. He was, as one would hope, dominant against left-handers, who batted a measly .163/.245/.185 against him in 2011.
Affeldt was even more successful last season, posting a 2.63 ERA over 61.2 innings and absolutely shutting down lefthanded batters, who hit .144/.206/.200 against him over the course of the year. (13 hits in 90 at bats!)
He wasn't sure if he'd be coming back to the Giants, however, because the team announced the Lopez signing before informing Affeldt they were picking up his option for $5 million in 2011.
"So when they told me they were going to pick up my option, I was like, 'That's awesome,'" Affeldt said. "I enjoy being a Giant."
So these guys were effective, particularly in the roles that Bruce Bochy and Brian Sabean want to use them. And having lefty specialists in the bullpen is critical.
But there's an argument to be made that the Giants could have declined Affeldt's option and signed him for less once he became a free agent; $5 million is a pretty hefty salary for a guy who's only used situationally, and isn't even the top lefthander in the bullpen.
So with the pair of lefties costing a combined $9-plus million for 2012, there's a chance these signings become a bit less fantastic if it results in the Giants being unable to improve the offense any more.