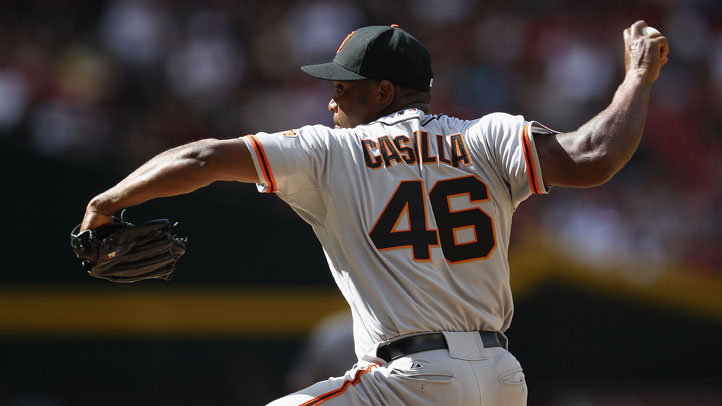 With Brian Wilson lost for the season due to upcoming Tommy John surgery, we recently examined the possible closer options for the Giants going forward in 2012.
Turns out, we were pretty spot on, as Bruce Bochy confirmed on Tuesday that the Giants will roll with a closer-by-committee approach to the end of games, but that Santiago Casilla will be the "front-runner" for the closer job.
"It's fair to say [that]," Bochy said when asked if Casilla would get the first look at being the full-time closer, per Andrew Baggarly of CSNBayArea.com.
We said it before and we'll say it again: Casilla makes a lot of sense as the closer, but less sense than Sergio Romo does.
Casilla's prone to bouts of wildness, and that's the last thing you want in a closer. If he walks two guys in an inning, suddenly one bad pitch makes it ballgame.
Romo doesn't walk dudes, and he's filthy against right- and left-handers.
But that being said, it would be pretty surprising if Bochy actually committed to someone full time. The guess here is that he gives Casilla the de facto closer roll and goes with him most of the time, but leaves the door open for Romo or Javier Lopez to close, depending on the situation.
The good thing (or, if you prefer, silver lining) about Wilson being out for the entire season already -- versus trying to come back against all odds -- is that the Giants can move on and actually name a closer for the season, and potentially end any serious controversy about who will close.
Of course, the bad thing is if that closer has a lights-out season, it could potentially be very awkward if and when Wilson returns.