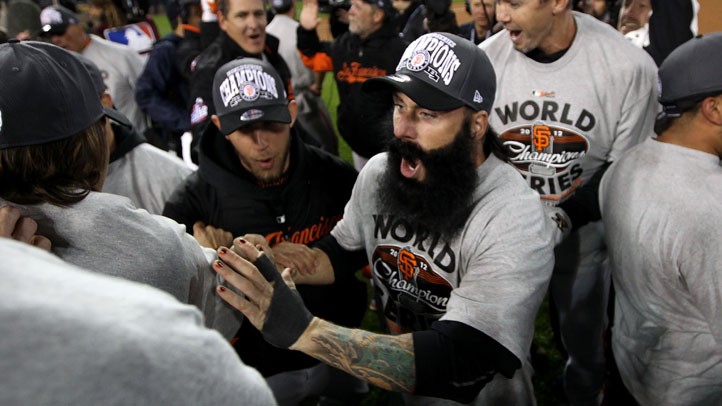 Over the past two seasons, Brian Wilson's had as many Tommy John surgeries as innings he pitched in 2012: two.
That's not a good ratio and ultimately it could end up meaning the Giants don't give him a tender before the Nov. 30 deadline.
Brian Sabean, speaking at the GM meetings recently, said the team's in "wait and see" mode on the Beard.
"This was his second (Tommy John), and if anyone could defy the odds, it would be him," Sabean said via Jerry Crasnick of ESPN.com. "But he's a long way from being at full strength, which means he's a long way from being cleared medically. It's wait and see. Until I get more medical information, we're not going near the subject."
When you throw out "wait and see" for a guy who won't be able to pitch until the middle of 2013, what that probably means is no tender's coming.
We wrote about this in September: it's pretty likely that the Giants turn the page on Wilson's tenure in San Francisco, or at least his current contract.
The likely scenario is that Wilson hits the free agent market after being non-tendered by the Giants. But because of his health, it's also entirely possible that the Giants bring him back on a shorter, smaller deal and he ends up pitching for San Francisco again.
But at this point that might be problematic given Sergio Romo's emergence as a front-line, shut-down option for Bruce Bochy's bullpen. Would Wilson be willing to pitch earlier innings? Would he even take less cash? Can you actually imagine him on another team?
Those are questions that need answering pretty quickly. We'll certainly know part of the answer when November 30 rolls around.