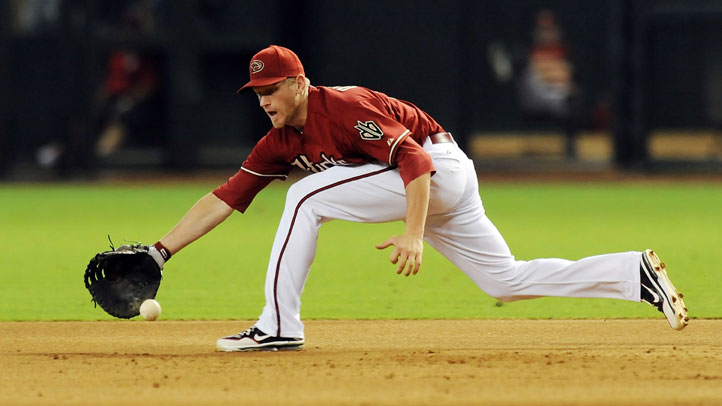 Though the Giants went out at the trade deadline and picked up Hunter Pence, and though Buster Posey is fashioning himself as a potential NL MVP candidate right now, the Giants still need offense.
So it makes sense that, according to Hank Schulman of the San Francisco Chronicle, the Giants are interested in signing ... wait for it ... Lyle Overbay. OK, not as sexy as you might've liked, but still, he's a first baseman that would finally give Bruce Bochy an excuse to bench Brandon Belt without playing Aubrey Huff.
Overbay, 35, was recently designated for assignment by the Diamondbacks while hitting .292/.367/.448 with two home runs and 10 RBI in 45 games this season. As Schulman noted, Overbay was struggling recently, going just 2-for-25 in a recent slump.
So Overbay's out there and the Giants are interested. Makes total sense. One problem: the Giants want Overbay to go to Triple-A Fresno, get some minor-league seasoning and then join the big-league club. Seems like a reasonable request, right? Wrong. Apparently, Overbay's not down with going to Fresno. Or, at the very least per Schulman, is "not eager to do that."
This probably means that Overbay's checking out his other possible options and hoping he can land a spot where he won't be just a bench guy and/or be required to hit up the minors before joining a team.
It's possible the Giants will cave and let Overbay join the team straight-up, and it wouldn't be all that surprising if they did. He's not some power hitter that's a must have, particularly at his age, and Overbay's never hit more than 25 home runs in a season, nor has he batted over .300.
But he's a bat that's not named Aubrey Huff, and that could be critical for a Giants team that desperately needs as much offensive assistance as they can possibly get.