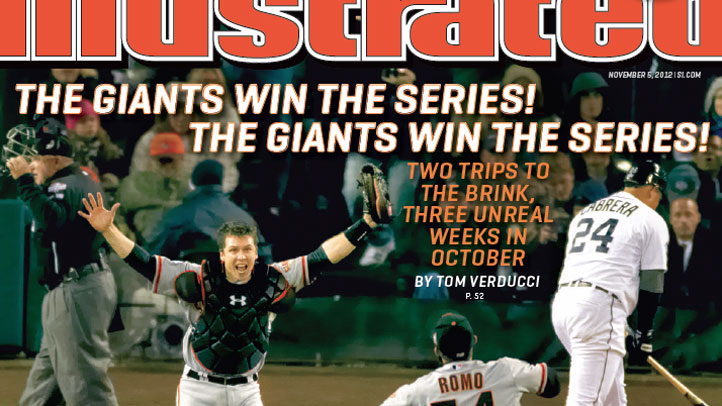 The Giants won the Series! The Giants win the Series!
That is an indisputable fact following the Giants Sunday night victory over the Tigers to win their second World Series title in as many years. It's also a play on the call from Russ Hodges when Bobby Thompson hit the "Shot Heard Round the World."
And those are the exact words on the cover of Sports Illustrated this week, as the Giants victory netted them the honor of gracing the cover of one of America's oldest sports magazines.
Specifically, it's Buster Posey and Sergio Romo celebrating the final strike that nets the cover:
The cover is also a crippling blow to Tigers fans, as it depicts Triple-Crown winner walking away from the plate both angry and sad as Posey and Romo celebrate.
The SI article on the Giants is from Tom Verducci and it should be a good one: in his roll as a sideline reporter, Verducci's been pretty well embedded with the Giants during a lot of their playoff run (though he's TBS so he actually spent much of the time working with the American League and less working with the World Series on the field).
"On the heels of its World Series sweep, the San Francisco Giants grace a regional cover of Sports Illustrated – distributed in the West and Northeast," SI announced. "The headline 'The Giants Win the Series! The Giants Win the Series!' is a variation of Russ Hodges' call of Bobby Thomson's shot heard round the world in 1951. Tom Verducci's story captures the Giants' two trips to the brink and three unreal weeks in October for the Giants."
Fans can pick up the issue on Wednesday when it goes on sale if they don't already subscribe.