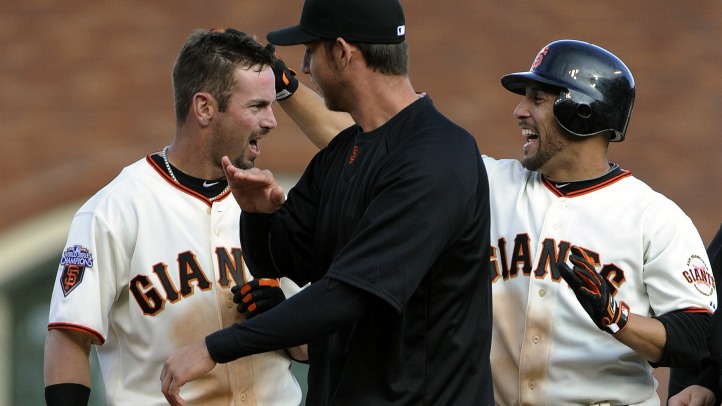 On Tuesday, the Giants are expected to get Andres Torres and Mark DeRosa back from the disabled list.
This means that the Giants will suddenly have a pretty crowded roster.
"We're going to be crowded with some nice players," manager Bruce Bochy said recently. "It will be hard to get them all playing time."
But, hey, that's much better than the situation the club faced a few weeks ago, when there was a reasonable debate about how to actually fill out the outfield -- you may recall that Brandon Belt was even getting work out there, just to be safe.
Of course, the depth of the lineup now means that Belt probably won't be getting called up any time soon -- he's killing it in Fresno (still), but there's no reason to force him into the big-league lineup if there's not an immediate need for room.
And there's just not right now. It will be interesting, though, to see how everyone getting healthy will affect playing time.
For instance, Miguel Tejada might not ever see his spot at shortstop open up again -- Mike Fontenot's been raking since he took over.
"What a great job he's done," Bochy said, per Alex Pavlovic of the San Jose Mercury-News. "He continues to find ways to get on base and drive the ball. I just liked the way he was swinging the bat."
And it's hard to blame Bochy for liking what he saw: after Pablo Sandoval went down, Fontenot had to step into the starting shortstop role, and, per Pavlovic, he's hitting .300 with four doubles, a homer and five RBI.
"That's one thing that's funny about baseball -- you never know," Fontenot said. "You don't want injuries to happen, but it's happened to us and I've had a chance. I'm trying to make the most of it."
Now, once Sandoval comes back, he's going to get his spot at third. No issues there. But what happens to Tejada? Does he slide back over to short if Fontenot keeps this pace up? Well, maybe not, no -- it would be really tough to justify sinking the team on the offensive and defensive end just because Tejada makes $6 million this year.
By then Fontenot could have cooled off, of course, but don't automatically book that just because he's never had this much success before.
Now, Sandoval may take some time to get healthy, and Fontenot still provides welcome relief for Freddy Sanchez, but don't sleep on DeRosa either -- he could step in and be an immediate defensive (and offensive too???) upgrade of Tejada at third.
But, he can also replace anyone, anywhere on the field for the most part, giving Bochy a pile of moving pieces that he can tweak depending on matchups and who's hot -- so it shouldn't be too shocking to see plenty of odd/different lineups over the course of the year should everyone stay relatively healthy.
And the same thing will happen in the outfield: suddenly Bochy has Nate Schierholtz, Aaron Rowand, and Cody Ross heating up, and Torres healthy (provided he does come off the DL today). Pat Burrell's swinging the bat pretty well, too, with six hits in his last four games.
Expect Rowand, just like last year, to head to the bench, to have Ross stay in right, Torres in center and then have Schierholtz playing the role of defensive replacement where needed.
The most important thing to remember for this team, though, is that having offensive depth is a good thing -- if the Giants can manage to actually put together some decent plate performances between now and the time that Panda returns, the NL West could be looking pretty ripe for the taking and all the concerns about dealing for a bat might be for naught.