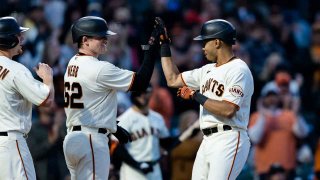 What we learned from Webb's all-around dominant outing originally appeared on NBC Sports Bayarea
SAN FRANCISCO -- For a few weeks now, Logan Webb has been making the case that he belongs in the Giants' postseason rotation. On Thursday night, Webb made the case that he should be starting Game 1 of any postseason series and possibly hitting fourth.
Webb threw six shutout innings and crushed a ball off the top of the center field wall, igniting the crowd at Oracle Park and leading the Giants to an easy 7-0 win over the Colorado Rockies. They extended their NL West lead to five games over the Los Angeles Dodgers, a season high.
The latest dominant start continued a hot streak that has seen Webb deliver on all the promise the Giants have always seen in him, and it couldn't have come at a better time. The rotation has been the biggest issue in recent weeks, but Webb has been a rock since recovering from a sore shoulder, and Thursday's performance was one of the best of his career.
This deep lineup -- which once again was paced by LaMonte Wade Jr. -- doesn't need the pitchers to contribute, but Webb got involved there as well, hitting about the longest single imaginable to help spark a six-run rally off Rockies ace German Marquez.
Here are three more things to know from Logan Webb Night:
Ascending To Ace Life
Webb has been dominant since coming off the IL on July 9, but his heater goes all the way back to May 11, when he struck out 10 Texas Rangers. Since that date, Webb has a 1.53 ERA in 10 starts, the second-lowest in the big leagues to Jacob deGrom (1.35). The next guy on that list is Walker Buehler (1.79), so Webb is sandwiched between the early season Cy Young frontrunner and the guy who has vaulted near the top of the pack since deGrom got hurt.
Webb ran into some trouble early, but he induced two double plays and got a third one on a line drive. Between those, he struck out the side in the third inning. He finished with eight strikeouts while walking two and allowing just three hits.
Webb lowered his ERA for the season to 2.96. He finished last year at 5.47
#LetPitchersHit
Webb might enjoy swinging the bat more than anyone on the staff, and he certainly is capable of damage. He crushed a Marquez offering 399 feet to dead center in the fourth inning, missing a grand slam by inches:
Webb ended up with just a single because the runners had to worry about potentially tagging up, but it was still the furthest a Giants pitcher has hit the ball since Madison Bumgarner crushed a 420-foot homer on Sept. 3, 2017. Since Bumgarner left for Arizona, Giants pitchers have just two base hits of at least 350 feet, both from Webb. He had a 388-foot triple earlier this season.
Wade's World
Two pitches after Webb missed his slam, Wade finished the job. He crushed a 430 foot blast to right-center for his second homer in as many nights and 15th of the season. This is a good time for a reminder that his career-high in the minors is 11 and he hit just two in 42 previous big league games with the Twins.
Wade's homer was his 11th of the year at Oracle Park, tied for the most by a Giants hitter at home since the start of the 2015 season. Kevin Pillar hit 11 in 2019, and Wade and Pillar are the only two Giants over the last seven seasons to reach double-digits at Oracle Park.
Download and follow the Giants Talk Podcast
Copyright RSN