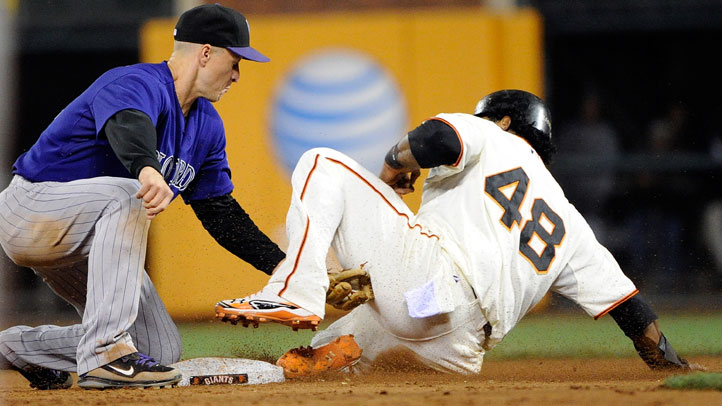 A staple of Bruce Bochy and Brian Sabean Giants teams is an emphasis on veteran players. The downside of veteran players is that they are, inherently, older. And older usually means slower, too.
But in 2012, expect the Giants to do "more baserunning."
"This team is more athletic this year than last year," baserunning coach Roberto Kelly told Henry Schulman of the San Francisco Chronicle. "We expect to do more baserunning. We let the guys know from Day 1 this is the kind of baseball club we want to become. Sometimes the offense will not be where we want it to be, but we're going to run the bases every day."
This is a logical conclusion of the current roster: new additions Angel Pagan and Melky Cabrera should be atop the lineup.
Pagan's been a solid thief the past two seasons with the Mets, swiping 69 bases in 2010 and 2009, while caught 16 times in those two years. (That's a substantial improvement over his 14 steals and seven caught-stealings in 2009.)
Melky was also more aggressive in 2011: he stole 20 bases, a career high, while with the Royals, though he was also caught a career-high 10 times.
Buster Posey returns to the lineup with the hope he can be more aggressive on the basepaths as well. Posey stole three bags in just 45 games in 2011, before his season ended because of injury, after not stealing any bases in his Rookie of the Year campaign in 2010.
Schulman writes that players at Spring Training were doing extra work earlier in the week, with "the emphasis of the drill running on a pitcher's first move." And Brandon Belt, not exactly known for his speed, said the team's emphasized it during the work in Scottsdale.
"Running the bases is something we've done more than anytime in my life," Belt said. "They made it clear on the first day this is something they want to improve upon. There's a lot more effort going into it."
Steals are an important part of run production, if they are efficiently maximized. Running just to run isn't going to help a team score runs. But running efficiently, and putting runners in scoring position without sacrificing outs, is precisely the type of thing that could help the Giants improve on their run production in 2012.
And if they can improve their run production with the current pitching staff in place, they should improve their place in the standings as well.