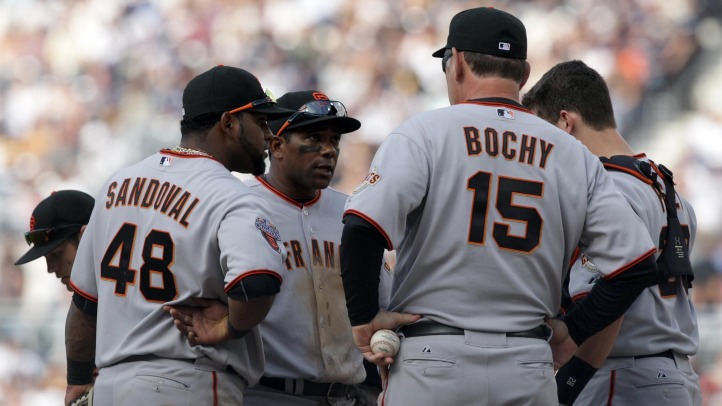 Well, if there's one clear observation that came from the Giants 3-1 loss to San Diego on Tuesday night, it's this: THE SKY IS FALLING AND RUN, EVERYONE! RUN!!
Alright, that's a huge stretch, but good luck finding any optimism around or about the team following a rough loss that was highlighted by a three inning, five-hit, three earned run effort from Madison Bumgarner.
Meanwhile, Aaron Harang, a native San Diegoian, limited San Fran to one run on six hits and two walks over six innings. He got a pretty good lift from the umpires, too -- Buster Posey thought he drew a bases-loaded walk, but a questionable strike call brought him walking back to the plate and ended up becoming a ground-out to Harang.
The first inning could/should have resulted in more runs too, but the Giants couldn't capitalize.
The bullpen was solid and things only really got ugly when Bumgarner came unraveled in the third inning, allowing a Jorge Cantu sacrifice fly and walking Chase Headley with the bases loaded.
In good news, Aubrey Huff's defense wasn't a total disaster, Miguel Tejada's strong defensive play continued, and Guillermo Mota pitched three shutout innings in relief of Bumgarner.
But that's about it -- no one hit well and there were plenty of miscues, including a missed field by Bumgarner in the third that could have bailed him out but he might have gotten confused by Posey coming off the plate and having no option to go home.
Brandon Belt's an interesting case, too, because while it seems like he's killing the ball, he's secretly only got two hits through five games: his first career homer and his first career hit in the opener. However, Bruce Bochy appears to be okay with his first baseman thus far.
"We're going to be patient with him," Bochy said. "He'll figure it out."
And he will. But with Huff playing miserably in right field, defensively, and Belt struggling at the plate, there will be a call for a change from the fans at some point.
Fortunately, Bochy's clearly proven he knows what he's doing. (Although maybe he should just go back to putting Miggy at leadoff for a few games?) And there are some moving parts on this team right now. And there are some young guys experiencing their first April in the big leagues.
Plus, the Giants only have one more game before they get to head home, where, as Bochy's mentioned, the "ball just moves differently." And there's a much more welcoming environment, from fans itching to see their world champs play in person.
So coming home should help things, but for now, it's safe to curb the enthusiasm.