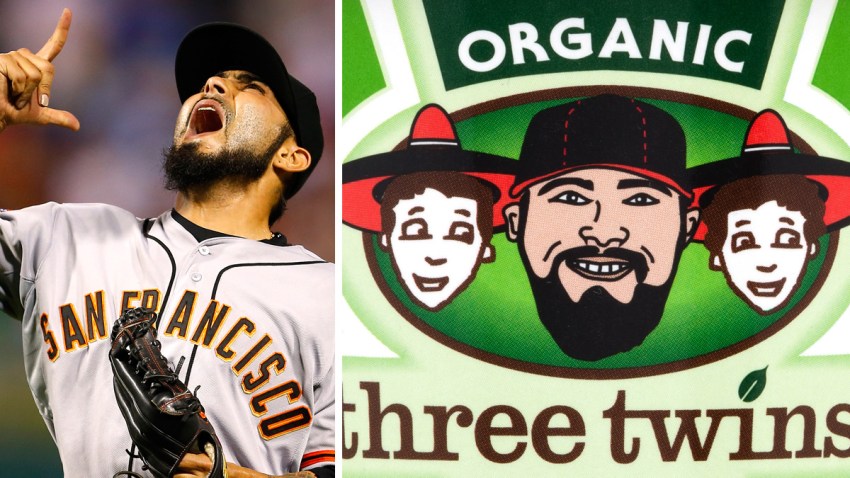 As the San Francisco Giants season winds down, closer Sergio Romo is ready to remain in the spotlight as the face of a chilly new product tied to a hot national debate.
The ever-provocative pitcher has teamed up with "Three Twins Ice Cream" to create a bold, organic flavor of Mexican chocolate ice cream with a potentially controversial tagline: "It only tastes illegal."
The tagline is a nod to the dark blue T-shirt Romo wore after the Giants won the World Series last fall that said "I just look illegal."
The ice cream's rollout this week is also timed to coincide with Hispanic Heritage Month, and is a surefire way to stir up debate about immigration reform.
"The issues are so important to me because I myself am Mexican American," Romo said in a piece about the ice cream on ESPN's website. "Being looked at on first glance and being judged on that, I've lived through that."
The pint of chocolate, with a hint of cinnamon, sells for $10 online and about $4 to $5 in retail stores. Romo calls the flavor "bold" and spicy" in the ESPN video. "I like it a lot. I have a huge sweet tooth," Romo said. "I'm glad I got my own ice cream now."
The flavor hit stores, such as Sprouts, The Fresh Market and other grocers, this week and was just approved to be sold in Whole Food grocery stores, according to company founder Neal Gottlieb, who spoke to NBC Bay Area on Monday. Also on Monday night, the ice cream factory is throwing a private party in San Francisco to formally launch the sweet dessert, where a lucky guest will have the opportunity to meet Romo and share a bowl of the rich, chocolate ice cream.
threetwins factory in Petaluma!! #mexicanchocolate #thatswhatsup http://t.co/WVT8EfYT5S — Sergio Romo (@SergioRomo54) August 23, 2013
Three Twins Ice Cream is based out of Petaluma, Calif., and until now, has been sold in a handful of retail shops in San Francisco, Napa, Larkspur and San Rafael. Gottleib said it's the only one of his company's 20 or so flavors named after an individual.
MORE: Sergio Romo Rocks "I Just Look Illegal" Shirt at Giants Parade
Gottlieb told NBC Bay Area it was a few months after seeing Romo wearing his "I Just Look Illegal" T-shirt at the Giants victory parade in November 2012, when "poof," the idea for pairing the Mexican chocolate flavor and Romo popped into his head.
Since this is the year 2013, Gottlieb didn't call or email Romo; he instead messaged the pitcher about the idea on Twitter, along with a mockup of the design and tagline. Romo tweeted back: He'd do it.
In August, Romo visited the ice cream factory, and a new flavor was born.
MORE: Debate Erupts Over Romo's "I Just Look Illegal" Shirt
Romo was born to Mexican parents in Brawley in Imperial County, Calif., about 30 miles north of the Mexican border. And he wears his Mexican-American heritage with pride. In the past, he's worn a shirt that said "Made in the USA with Parts From Mexico."
Three Twins Ice Cream was created in 2005 in Marin County by Gottlieb, whose own twin brother is married to a twin.