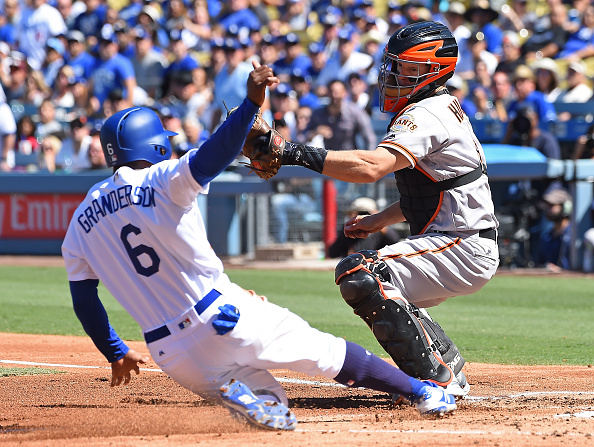 LOS ANGELES — With two outs in the eighth inning on Sunday afternoon, Gorkys Hernandez took a swing and accidentally flung his bat right back to the mound. The fans booed as Clayton Kershaw, who had jumped out of the way, retrieved it.
Look, nothing else has worked against this guy.
This method didn't, either. Hernandez struck out, giving Kershaw 200 on the year. He was his usual self, scattering eight Giants hits in eight innings and allowing just one run on a Mac Williamson dinger. The Giants lost 3-1, dropping the final series against the Dodgers.
Kershaw is Kershaw. What are you going to do? For now, you can read more about this game!
Double trouble for Giants catchers: The Giants are carrying three catchers right now, and all three hit into a double play. Tim Federowicz pinch-hit for Chris Stratton in the fifth and bounced the first pitch over to short. Buster Posey hit a similar ball an inning later. Nick Hundley wiped out a leadoff single an inning after that. That's hard to do, man.
A preview of things to come? In relief of Stratton, Ty Blach might have given a preview of what's to come next season. Blach pitched three scoreless innings, turning the tables on a lineup that was set to face a right-hander. That very much looks like it will be Blach's role to begin next season, although the Giants will always have the flexibility to move him back into the rotation.
Williamson does it all: Williamson had two singles before his long homer to center in the eighth. He did it in the field, too, cutting Joc Pederson down at third as he tried to go first-to-third on a single to left. That throw ended an inning and got Blach out of a jam.
Career year vs. Kershaw: Hunter Pence had three singles, and he finished 7-for-13 against Kershaw this season. Pence entered the year with just six hits in 66 at-bats against Kershaw.