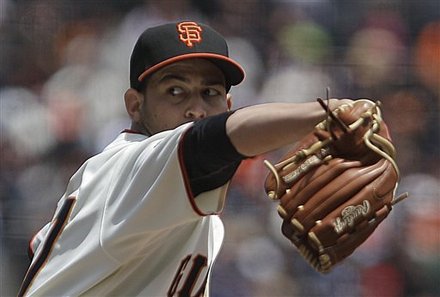 Emmanuel Burriss was walking into the batter's box when he locked eyes with Darren Ford standing on second, a small sign only the two close friends could communicate without muttering a word.
"It was more so if I get a hit, you better score," Burriss said. "It wasn't so much I'm guaranteeing a hit."
Burriss singled home Ford for the winning run in the bottom of the 11th inning, and the San Francisco Giants completed a three-game sweep of the cross-bay rival Oakland Athletics with a 5-4 victory Sunday.
Burriss' line drive off reliever Brian Fuentes (1-6) was hit hard enough to make it a close play at the plate. The speedy Ford slid in just ahead of right fielder Ryan Sweeney's throw, sending the Giants running out of the dugout to celebrate their fifth straight victory and seventh walk-off win this season.
"I don't know who else scores in the game except Darren," Giants manager Bruce Bochy said. "Anybody else and it's not even close."
San Francisco put the exclamation point on the latest edition of the Bay Bridge Series.
Pinch-hitter Nate Schierholtz hit a tying, two-run homer in the eighth off Grant Balfour over the right-field wall and just short of splashing in McCovey Cove.
The rally spoiled another stellar outing by A's starter Gio Gonzalez and sent Oakland tumbling to its fifth straight loss and ninth overall at AT&T Park.
Sergio Romo (2-0) pitched two scoreless innings to help the Giants win their 10th straight home game. San Francisco is 11-0 in one-run games at its cozy waterfront ballpark this season.
Copyright AP - Associated Press