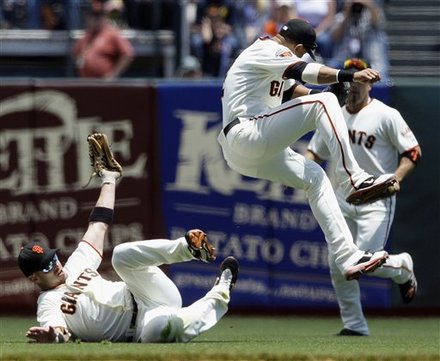 Florida Marlins owner Jeffrey Loria stood at the center of the visiting clubhouse, holding a Marlins cap in his hand and flashing a smile behind his sunglasses.
He was clearly the happiest person at AT&T Park.
With the home fans still stunned and grieving over the injury to star catcher Buster Posey, Anibal Sanchez threw a five-hitter for another complete game in San Francisco to lead the Marlins to a 1-0 win Thursday and cap a three-game sweep.
"The sweep here against a good team is great," Florida manager Edwin Rodriguez said. "The down side is what happened the other night. Other than that, a good three wins."
The injury to Posey hovered over the game well before the start.
An MRI exam on Posey showed he fractured a bone his lower left leg and had three torn ligaments on both sides of his left ankle, Giants trainer Dave Groeschner said. That all came from when Scott Cousins crashed into him at the plate, likely ending the catcher's season. Groeschner said Posey will seek a specialist to perform the surgery.
The Marlins brushed the news aside to finish off the defending World Series champions in style.
Sanchez (4-1) struck out eight and walked two for his fifth career complete game and second this season. He pitched a one-hitter against the Giants last July 29 in his previous appearance in San Francisco.
"I like the city. We come just once a year. I try to enjoy it," Sanchez said.
Logan Morrison's RBI single in the sixth inning off Ryan Vogelsong scored Chris Coghlan for the only run. Vogelsong (3-1) struck out three and scattered eight hits in eight innings for his first loss in six starts on a difficult day to take the mound.
"I think it was tough. I knew it was tough for me," Vogelsong said. "I was just trying to get us going early."
Freddy Sanchez doubled with one out in the Giants ninth before Aubrey Huff and Cody Ross grounded out.
Cousins, who went to college at the University of San Francisco and lives in the Bay Area, did not play. Tears welled up in his eyes when he talked before the game about the severity of Posey's injury.
Posey was put on the 15-day disabled list. The reigning NL Rookie of the Year who helped the Giants win the World Series last year was hurt when Cousins plowed him over scoring the winning run in the 12th inning Wednesday night.
The Giants had runners on first and second in the finale with one out in the first, setting the stage for Huff to do some damage. But he grounded into a double play to end the inning, a familiar theme throughout the day.

Copyright AP - Associated Press