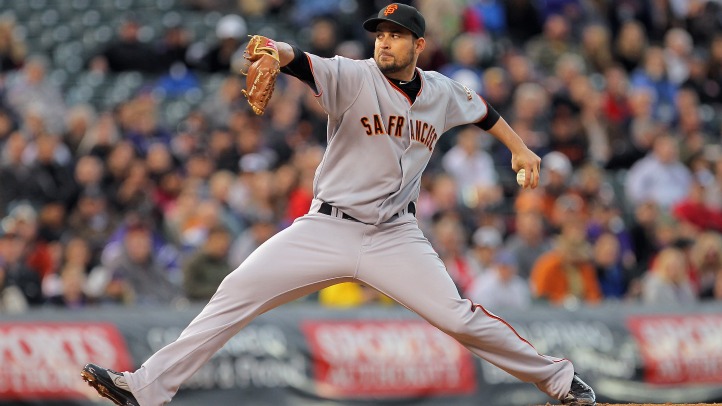 Giants fans holding their breath for big news on the front of acquiring offense got some news on Monday, as the team announced they traded pitcher Jonathan Sanchez and minor-league pitcher Ryan Verdugo for Royals outfielder Melky Cabrera.
The reaction to this deal has been interesting, to say the least, with most folks believing that the Giants were ripped off by giving up Sanchez for a journeyman outfielder.
Click to hear Brian Sabean talk about the trade.
But that perception might actually be wrong -- Cabrera had a sneakily good season last year, hitting 18 home runs, knocking in 87 RBI, batting .305 and posting a 2.9 WAR.
Meanwhile Sanchez, a 28-year-old lefty with worlds of potential, pitched just 101.1 innings in 2011 and posted a 4.26 ERA while struggling with injuries much of the season.
Sanchez is remembered for his magical no-hitter during the 2009 season, so it's easy to get upset that he wouldn't garner more in a trade, but the truth is he's injury prone and regressed significantly in 2010.
The Giants also don't need him. Lest you forget, this time couldn't get to the postseason because the offense was so terrible. Cabrera is an upgrade over Andres Torres in centerfield and just might be the Giants third- or fourth-best hitter right now.
Now the Giants can consider chasing after Carlos Beltran and convincing him to play left field, putting Brandon Belt in right and concentrating on locking up Tim Lincecum and Matt Cain for the foreseeable future.
Cabrera isn't the sexiest name on the market, but if the Giants are serious about upgrading their offense, he's a pretty good start.