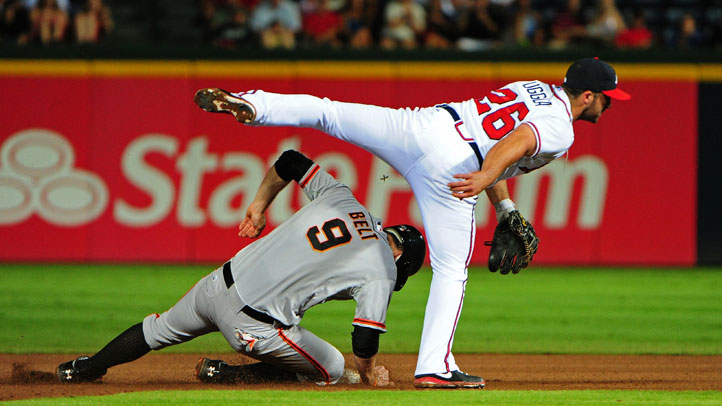 Ah the beauty of divisional play. The Braves, 71-53, are the Wild-Card leaders (along with the Cardinals), but the Giants, at 69-55, are winning their division.
Note to self: if you're ever reincarnated as a professional sports team, always play in the West.
Anyway, the Giants, coming off a sweep of the hated Dodgers, welcome the Braves to AT&T Park and will attempt to put some distance between themselves and the rest of the playoff contenders. Let's take a look at the series.
Game 1, August 23, 7:15 p.m. PT -- Barry Zito (9-8, 4.42 ERA) vs. Tommy Hanson (12-5, 4.27)
You might think that this matchup favors the Braves, what with Barry Zito vs. Tommy Hanson and all. But it turns out, Jason Heyward and Chipper Jones, two of the Braves best hitters, aren't good against Zito. Heyward is 0-for-6 against the lefty and Chipper is 2-for-12 (kind of crazy those two have only faced off 12 times).
Dan Uggla's a hitter to watch here with a .273 batting average and a homer against Zito. A misplaced fastball could find itself swimming quickly. The only time Zito faced the Braves this year was in Atlanta, and he went seven innings without allowing a run.
"He's tough. I mean mentally tough," Bochy told the Giants' official website after Zito's start at Atlanta last month. "He's done a great job for us."
Zito will need to continue to do that against a vulnerable lineup to keep the Giants roll going. Also important: the return of Buster Posey. If Posey isn't ready to bounce back from his strained hamstring yet, this wouldn't be a terrible day to sit him, since he's just 1-for-7
Game 2, August 24, 7:15 p.m. PT -- Ryan Vogelsong (10-7, 2.85) vs. Ben Sheets (4-3, 3.07)
Almost forgot the most important part of this series:the over/under on snarky Melky Cabrera comments from members of the Braves. We'll go ahead and set that at 5.5 ... between now and first pitch of the second game.
This matchup is actually fascinating because Vogey and Sheets are two of the more amazing comeback stories in recent baseball history. Sheets came out gangbusters when he returned this year, but he's struggled badly as of late, and there's rumor he could have lost some cheese on his fastball. Or, maybe not rumor, since his pitches are slower. Still: not pitching as fast.
Vogelsong's struggled in his last few starts too and lost his streak of games with six innings. This is a good opportunity for him to get back on board.
Game 3, August 25, 1:05 p.m. PT -- Madison Bumgarner (14-7, 2.83) vs. Mike Minor (6-10, 4.74)
Bow down to #MADBUM. The lefty is becoming the ace of the Giants before our eyes, and quickly pushing himself into Cy Young contention. Honestly, he's on a pretty freaking hot streak right now (61 strikeouts in 56 innings and a 1.93 ERA in his last eight starts) and it would be a surprise if Bumgarner didn't keep it going.
Brian McCann (two homers in nine plate appearances) and Freddie Freeman (one homer in eight PAs) have had good success against Bumgarner, so there's letdown potential here, even if the Braves don't hit as well against lefties as they do righties.
Don't sleep on Minor, though. He's been hot lately, posting a 2.29 ERA in his last eight starts, albeit with only 37 strikeouts in 51 innings. He's quietly been dealing since the All-Star Break, which only doubles up the odds that the Giants lose this game 2-1.
Game 4, August 26, 5:05 p.m. PT -- Tim Lincecum (7-13, 5.30) vs. Tim Hudson (12-4, 3.69)
SPEAKING OF HAWT ... Timmy's kind of warm, huh? So warm it doesn't even feel like we can jinx it here. OK, that's a lie. He hasn't been that great lately, but he just hasn't imploded, with his 3.10 ERA and 47 strikeouts in 49.1 innings since the All-Star Break.
That's really the state of things, huh? Good news too though, is that Timmy's got a 3.12 ERA against the Braves over his career, with a 6-4 record in 10 starts. Michael Bourn's the worry here, as he's got a .333 batting average against Lincecum in 31 plate appearances.
Hudson's problems should be much more of a concern: he's allowed 10 earned runs in his last 10 innings on the road and none in his last 13.2 innings at home. The difference might be pitching in Philly or Washington versus cavernous AT&T, but, still, that's a bad sign for the Braves heading into this matchup.
It appears -- and things could change with a Posey hammy aggravation, etc -- that the Giants look pretty good to have a shot at taking this series and pushing their NL West lead even further.