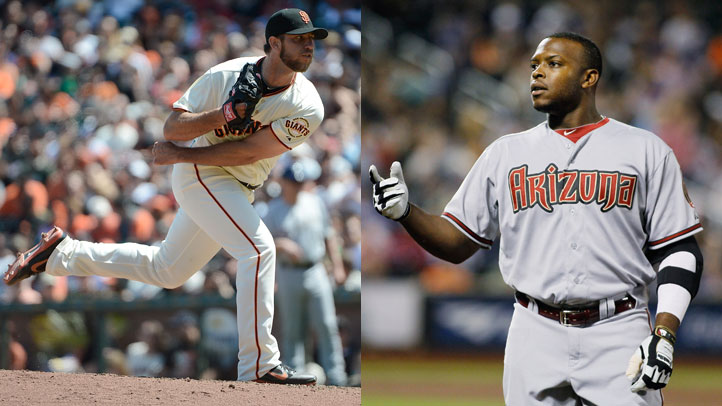 The Giants are in Arizona for a three-game stretch that begins Friday night. Not breaking news: these games are important. Once again, the Giants need to try and stave off division opponents from beating them down and losing any further ground to the Dodgers. They've got some good matchups to make that happen, so let's look at them.
Game 1, Friday May 11, 6:40 p.m. PT -- Madison Bumgarner (5-1, 2.31 ERA) vs. Patrick Corbin (1-1, 7.00)
Once again we find ourselves with a game the Giants should win. All due respect to Patrick Corbin (reader furiously Googles "Patrick Corbin") but MadBum is dealing like very few other pitchers are right now.
He's not doing it in a flashy manner, however, because his strikeouts are so depressed. As we've noted before, though, he did this last year and the results still turned out just fine. In fact, his only black mark of the season came in his opening start, when he gave up four earned runs over four innings against the Snakes and getting pulled after just 80 pitches.
The Diamondbacks are reeling too, coming off five-straight losses before this series against the Giants.
"We just got out-executed the whole series," manager Kirk Gibson said of getting swept by the Cardinals. "They outpitched us. They outdefended us. They swung the bats better than we did. And we are happy to see them go."
Corbin is making the third major-league start of his career and his first at home. There is, quite honestly, no reason for the Giants to lose this game and/or the Giants not to take advantage of a division opponent -- and defending division champ! -- on the ropes here.
EDGE: Giants
Game 2, Saturday May 12, 5:10 p.m. PT -- Matt Cain (1-2, 2.38) vs. Trevor Cahill (2-3, 3.26)
It's kind of fascinating to see that Cahill's been worse than Jarrod Parker this season, considering the Snakes gave up Parker to get Cahill. But whatever, that's just begging for him to go off, which is possible considering he really hasn't been that bad this year, despite his record and ERA.
Cahill's got four (out of six possible) quality starts, but was roughed up by Atlanta and Philadelphia. Perhaps most interesting about those games? They were at Chase Field, where Cahill will be pitching this time around. If he can't keep the walks down and/or keep the ball in the park at home he could be in trouble, especially against Cain.
Oh, that's right: Cain already pitched in Arizona once this year. And what happened there? Well, he gave up five earned over six innings, giving people cause to believe his contract was terrible and awful and stuff. He calmly went out and threw 18-straight shutout innings and hasn't had a non-quality start since. If the Giants give him runs and he can keep his hot streak going, they should win this. But the Giants giving Cain runs is about as likely as Pablo Sandoval breaking a third hamate, so let's not get too carried away.
EDGE: Giants
Game 3, Sunday May 13, 1:10 p.m. PT -- Barry Zito (1-1, 2.21) vs. Joe Saunders (2-2, 2.50)
Honestly, what's left to say or expect from Zito at this point? Oh right. Lots. But still, dude, just keep being married and happy and not getting shellacked every fifth day. Somehow Zito's kept his ERA under three, even though he's not pitching as well the last two games as he was in April. And 11 walks the last two games is beyond terrifying.
But let's not act like Saunders is setting the world on fire either -- after a hot start to the season (they both lead the league in complete game shutouts!), Saunders has also come unhinged in May, giving up three home runs and six earned runs in his last start and only striking out two.
Whoever allows the least number of home runs wins.
EDGE: Diamondbacks