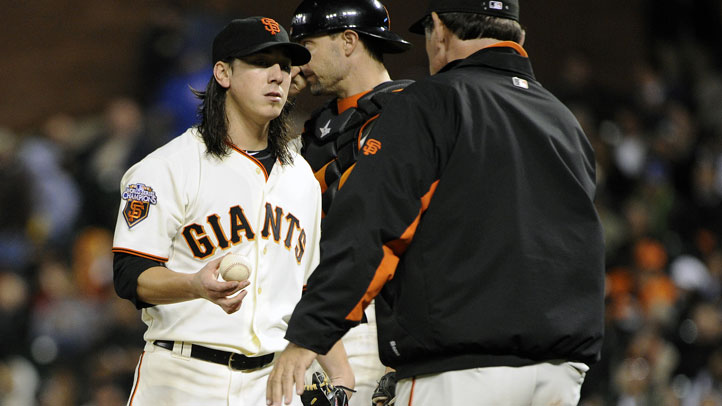 Sweep or go home is probably a little too simplistic for the current Giants vs. Diamondbacks series preview that starts on Friday night.
"Well, we're pushing a big rock uphill. We know that," GM Brian Sabean said Thursday. "We're running out of games. We've all been involved in seasons that have turned on a dime. Ninety-eight's an example. Last year was an example. You never know what's going to happen during the last month of the season. Strange things happen.
"There's still hope, and there's still effort. But we are down a bit. Short of a winning streak, we're going to have to win as many series or more series than they do, and that might still not be enough because of the hole we've dug."
After all, the Giants get the Snakes again for three games in the next-to-last series, but here's the thing: right now, San Francisco is six games back of Arizona, and a sweep would generate momentum for the G-men and squash that nine-game winning streak that Kurt Gibson's team is riding.
Joe Saunders (9-11, 3.82 ERA) and Matt Cain (10-9, 2.87) square off in the series opener, and while Saunders has dealt with some pretty bad luck this season, it's nothing compared to Cain, who's got, as you can see above, a sub-3.00 ERA and a ridiculously terrible record.
In the second game, would-be Cy Young candidate Tim Lincecum takes the mound with his 12-11 record (and 2.58 ERA) against "serious" Cy Young candidate Ian Kennedy, who brings his 17-4 record (and 3.03 ERA) to San Francisco.
Kennedy's broken out in a major way this year, but if you want proof of how terrible the Giants offense has been, see Exhibits A and B above re: Cain/Lincecum records.
It's a total disaster and kind of sad to waste two really good seasons, but such is the structure of this roster. Scoring some runs would go a long way towards helping things, of course. And, you know, not having Lincecum freak out and start
In the final matchup, it's Ryan Vogelsong against Daniel Hudson in a matchup that would typically favor the Diamondbacks, but Vogelsong's been stellar at home.
If there ever was a time for his redemption song to reach maximum potential, Sunday would be it.
There's some more in-depth analysis to find here, perhaps, but the simple fact is that it's -- as Sabean said -- an uphill battle.
Sweep and the Giants are down three games with 22 games to play. Get swept and the Carlos Beltran trade is a failure because nine games back with 22 to play is pretty close to being eliminated.
Win two of three and the Giants are still five games back -- such is the difference that one game in one series, which will probably be decided in extra innings on Sunday, makes in baseball.
And it might be one game at a time and whatnot for San Francisco, but every single one of those over the next three needs to be a win.