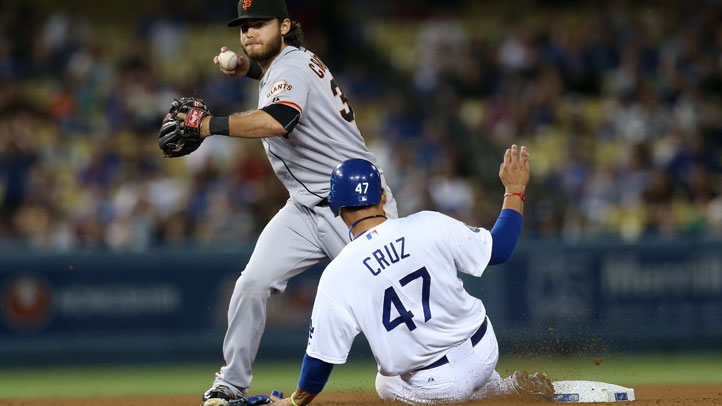 Beginning on Friday, the Giants and Dodgers square off in the first of their two remaining three-game series. Because the Giants are currently 4.5 games up in the NL West, first place is not (yet) on the line, which is good news for the Giants.
You know what is on the line? Some vacillating emotions! Seriously, is there a fan base that's more roller coaster-y than the Giants? A week ago they were a "team of destiny" and now things are "falling apart" even though they've still got a lead. Whatever, let's look at the matchups.
Game 1, 7:15 p.m. PT, Tim Lincecum (8-14, 5.21 ERA) vs. Josh Beckett (6-12, 5.03)
If you weren't paying attention to baseball at all, you might be wondering what Josh Beckett's name is doing here. Turns out the Dodgers actually thought it would be smart to take on all of the Red Sox players, whether they stink or not. Beckett kind of stinks, but he's been dealing since he got to L.A.
In his first start he went 5.2 innings and gave up three earned runs in Colorado (OK, dealing for Coors Field?) and in his second start, he limited the Diamondbacks to one run over 6.2 innings with nine strikeouts. That's relative dealing, right? In Beckett's career he's pitched 20 innings at AT&T Park, posting a 2.70 ERA with 18 strikeouts and a 2-1 record.
Based on his last eight starts, Lincecum is due to have a messy outing: he's gone one really bad outing--> three-straight quality starts --> one really bad outing --> three straight quality starts --> ???
Reversing that trend and shutting down the Dodgers on Friday would pretty much wash away an entire season's of bad memories, and he's done it once already.
Game 2, 1:05 p.m. PT, Matt Cain (13-5, 2.98) vs. Chris Capuano (11-10, 3.63)
Does this matchup look familiar? Because it should: Cain and Capuano squared off the last time these two teams played and Cain handily came out ahead. Capuano gave up six earned runs in five innings and Cain gave up just one earned in seven innings.
Man the Giants were hitting then. They also weren't struggling with their starting pitching, though it's probably worth noting that the struggles we mentioned recently only involve a single start from Cain, who got knocked around by the Cubs at Wrigley recently.
Cain's much, much better this year when pitching at home, so there's good reason to think he bounces back and we see a similar result to the last time these two gents squared off, especially considering Capuano's given up nine earned runs in 11 innings since getting knocked around by the Giants.
Game 3, 5:05 p.m. PT, Barry Zito (10-8, 2.79) vs. Barry Zito (10-8, 4.51)
Now, I know the Giants took care of business against Kershaw the last time they played him, sticking him with a loss even though he pitched eight innings, struck out 10 and only allowed two earned runs. But the last time they played him on Sunday Night Baseball? Things got awkward, and Kershaw tossed a complete game-shutout, allowing just five hits and one walk while striking out seven.
That game was in San Francisco, just like this one. Kershaw is going to be amped up regardless, because he's pitching for a possible playoff spot. But add in the primetime factor and it's an absolutely terrifying matchup, even though Zito has one game against L.A. where he blanked the Dodgers over seven innings in a late June win.
Prediction: Dodgers win 2 of 3