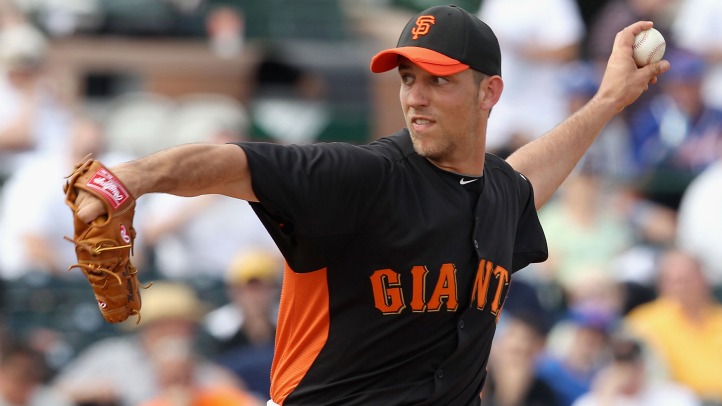 The easy way out is to just pretend that the whole "lost three of four to the Dodgers because the defense is abysmal" thing never happened. The problem is, that's kind of tough to do.
Fortunately, the Padres are the NL West's favorite slumpbuster and this series represents a great shot for the defending World Series champs to get the season back on track.
Game 1, 4/5, 3:35 PM PST: Madison Bumgarner (0-0) vs. Aaron Harang (0-0)
Man, remember when Aaron Harang was awesome? Yeah, that was a long time ago (like 2007). He'll probably benefit some by jumping from the bandbox that is Cincinnati and heading to the wide-open space that is PETCO, but looking at his spring training stats ... well, yikes.
Harang went 2-2, pitching 25 innings and posting a 6.12 ERA while only striking out 11 over six starts. In his final tune-up, he lasted 5.2 innings and got rung up for 11 hits and six earned runs by the Brewers.
One has to think that the fans at PETCO would prefer not to see something like that in their first home game of the year, especially from a hometown guy like Harang.
"I kind of got that little tingle in my gut like, 'Wow, this is pretty cool,' " Harang said when manager Bud Black informed him he'd start against the Giants. "I get to open up in front of my hometown, my family and friends. It's definitely an honor to get this opportunity."
Plus, at this stage of the game, Bumgarner's got the edge on him by a sufficient margin.
The question is whether or not Madison can repeat his success during the close of 2010 early in 2011 -- he looked good in spring training even though some of his numbers didn't say that. Last season, Bumgarner pitched in four games (three starts) against the Pads, going 0-1 with a 2.11 ERA and striking out 11 in 21 innings.
Bumgarner's success, plus a Padres offense that's significantly less dangerous than last year, (batting .208 with just two homers despite being 2-1), plus a Giants offense that could conceivably light up Harang, should bode well for San Fran's chances in this one.
Game 2, 4/6, 3:35 PM PST: Tim Lincecum (0-1) vs. Tim Stauffer (0-0)
This is a pretty intriguing pitching matchup, because both guys are named Tim! Lincecum and Stauffer are so diametrically opposed in terms of style. Stauffer's more of a "soft-tosser" (though he can K people) and Lincecum's the quintessential power pitcher.
That's not a knock on the Richmond product, because he's quite talented. In fact, watching him pitch the season opener ("ace" Mat Latos is on the DL) against St. Louis, it was quite apparent Stauffer could have some success this season. Last season, he definitely had success against the Giants, posting a 3-1 record -- in only two starts! -- a 1.35 ERA and nine strikeouts in 13 innings.
Of course, The Freak's done pretty well against the Padres, too. While he struggled some last year in just two starts against San Diego, he's 5-3 against them lifetime, with 2.08 ERA and 100 K's in 86.1 innings. And, those numbers only get better in PETCO.
For the Giants to actually generate runs off of Stauffer, they'll need to swing the bats like they did in the third game of the Dodgers series. I don't mean that in the "duh, they scored 10 runs" kind of way either; Stauffer keeps the ball way down in the zone, and he's not going to give up a pile of home runs. If the veteran bats like Miguel Tejada, Aaron Rowand and Pat Burrell can exhibit patience at the plate and pick up some cheap hits, the Giants could roll here.
Fearless Prediction: Brian Wilson returns for the save on Wednesday in a high-scoring affair, Lincecum goes complete game shutout on Thursday and the Giants sweep the series to head back for the home opener with everyone in much more optimistic spirits than they are right now.