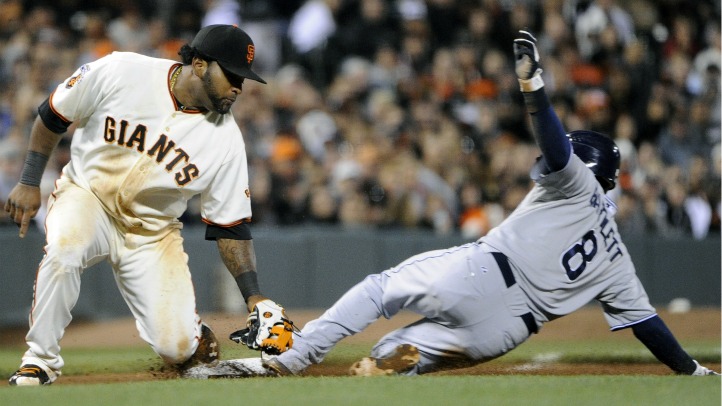 We're firing up a new little series this week, Beyond the Cove, in which we'll check in with an opposing writer or blogger before each of the Giants' series in the second half of the season.
Our inaugural episode features Geoff Young who blogs about the Padres at Ducksnorts, and also about the NL West at Baseball Prospectus. You can follow him on Twitter @Ducksnorts.
If you're interested in participating, know someone who would be a good fit or have a suggestion for questions to ask in the future, hit us up on Twitter @GiantsCove.
The Cove: The Padres stumbled into the break pretty badly -- would a sweep of the Giants inspire hope for a second-half run in a fairly weak West?
Geoff Young: A sweep of the Giants could have a negative impact on the Padres if it raises false hope and keeps the front office from making moves for the future. For as weak as the division is, the Padres lack the firepower to make a serious run.
Cove: Even though there's a split in the standings, how intense do you expect these second-half SD-SF game to be, based on the beefed-up rivalry-hatred that's developed over the past year or so?
GY: They should be intense. Unlike other "rivalries" in which the Padres allegedly are involved (Dodgers, Mariners), this one has actual teeth. For a town whose fans aren't always engaged, that is a good thing.
Cove: You sponsor the 2010 Pads page at BBR ... aside from the obvious missing offensive player -- Miguel Tejada, ammaright? -- is there anything in particular you can point to in order to explain the dip in success from last year?
GY:No, Tejada's absence pretty well explains it. He and the Hairston brothers carried this club last year. Also, there was a change at first base, but anyone can play that position.
Cove: What would you like to see the San Diego front office do between now and the end of July in terms of moving players -- Heath Bell, Aaron Harang, Ryan Ludwick, etc -- to other teams?
GY: If the Padres can get value for their pricey veterans, I hope they make some moves. With Kyle Blanks and James Darnell destroying Triple-A, there's no reason to keep Ludwick here.
Cove: What do you think about the Jose Reyes and Carlos Beltran trade rumors as they relate to the Giants?
GY: Reyes and Beltran? If it drains the Giants' farm system, I'm in favor. Another A. J. Pierzynski type trade would be nice. Seriously, though, the idea of the Giants having an actual offense is kind of scary, especially if you're the Phillies.
Cove: If the Dodgers were forced to auction off all of their good players because they're so poor, who would be your first pick off their roster? (Yes, we're just laughing at them now.)
GY: This is a cruel question because it will never happen, but Matt Kemp is a beast. For as great as Clayton Kershaw is, a guy like Dustin Moseley can succeed at Petco Park, so I've got to go with the hitter.
For more Giants insight and analysis, follow @GiantsCove on Twitter.