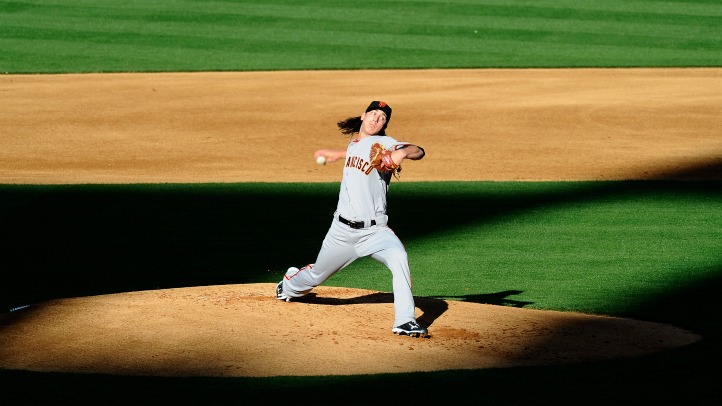 Maybe Brian Wilson is the key to San Francisco's success. Though he didn't actually pitch like it on Wednesday night, Wilson's return from the disabled list just happened to coincide with the Giants' bats waking up and whipping the Padres around, 8-4, as they closed out their season-opening road trip.
Buster Posey hit his first home run of the season, a never-in-doubt wallop to left field off of Tim Stauffer, who was chased after 4.2 innings. Stauffer gave up eight hits and four earned runs, while walking two and striking out just one.
Meanwhile, Tim Lincecum was masterful over seven innings, striking out a season-high 13 and allowing just three hits, one of which was a Nick Hundley (he's surprisingly hot right now) home run to left.
Lincecum's off-speed stuff was straight filthy from the get-go, and it was one of those nights where it really seemed like the opposition stood no chance.
And, as a quick reminder that The Freak is fantastic: one more 10-strikeout game and he'll tie Christy Mathewson for the most 10-K games (28) in Giants history.
The Giants piled on another four runs in the sixth as Aubrey Huff reached on an infield single and then had Posey and Pablo Sandoval follow with RBI singles.
Huff's hit could have gone the route of an error, too -- it looked the Padres were doing their best impersonation of the Giants from the first few games of 2011 on Wednesday night with their shoddy fielding.
Wilson made his debut in the ninth, gave up an infield single to Alberto Gonzalez, walked Orlando Hudson and then gave up an infield single to Brad Hawpe -- Gonzalez scored and Hudson advanced thanks to a bad throw by Miguel Tejada.
Wilson then K'd Ryan Ludwick and Bruce Bochy brought in Jeremy Affeldt to face Chase Headley, who smoked a two-run double to center. A walk and a single later, Ramon Ramirez suddenly found himself in a bases-loaded situation with the Giants up just 8-4.
For the good of all things San Fran, he picked up the save and the Giants walked away with the win.
On Wilson's performance, there are two things worth remembering: 1) he was pulled early because he'd just come off the disabled list earlier in the day, and 2) it was a non-save situation. No closer ever pitches well in those.
Plus, no harm, no foul: the Giants look like they woke back up, and they're headed home for a pair of series that should yield more positive results than the first two this year.