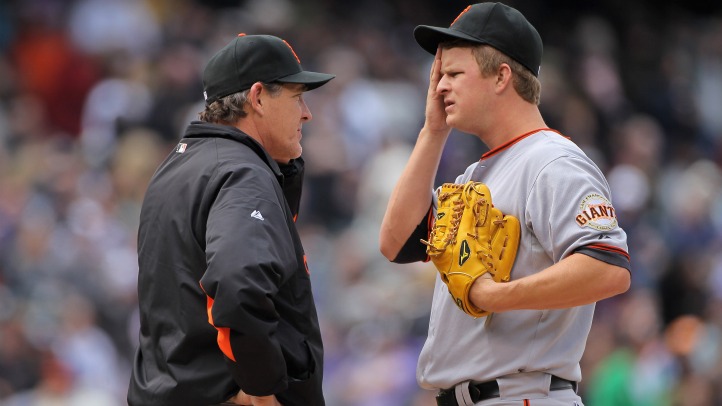 The Giants didn't exactly have the greatest week last week, as the Braves waltzed into AT&T and swept the team.
But there's some good news, I guess: early baseball! That's thanks to a West-Coast road trip that hits Pittsburgh first, and should provide a little slump-busting material for San Fran.
Game 1, 4/26, 4:05 PM PST: Matt Cain (2-1, 3.42 ERA) vs. Charlie Morton (2-1, 3.33)
Pitching Edge: Based on the actual "matchup" of the pitchers here, it shouldn't be much of a contest. And yet, Morton has the same record as Cain ... and a better ERA. That's primarily because Cain melted down in his last start, and is staring down a
"[My stuff] was fine. Just definitely the [three-run homer] by [Ty] Wigginton kind of put a damper on things and put our guys in a big hole," Cain said. "That's not something I wanted to do."
Three-run homers will do that (put a damper on things). So will hanging sliders over the plate for the Marlins, which is what Morton did in his last start, a six-earned-run outing in which he allowed 10 hits.
"They were just hitting my slider," Morton said. "It wasn't sinking."
I'd say not. Morton's gonna need to keep it down against the Giants if he wants to improve on his track record: 1-3 with a 3.96 ERA in four starts, with a surprising 20 strikeouts in 25 innings and just seven walks. Relative to Morton's usual numbers, that's pretty good, even if the record isn't.
Cain's been about as bad against the Pirates (which is kind of weird, right?), posting a 1-2 record with a 3.72 ERA and just 31 strikeouts in 46 innings.
Fortunately, he's had either limited interaction with or decent success against the current Pittsburgh roster: only five guys have more than 10 plate appearances against Cain, and Chris Snyder's the only guy with a
Opposing Batter to Fear: Andrew McCutcheon, who's got the strangest line against Cain: .143/.400/.143. How do you produce a great OBP but a terrible average and slugging percentage? You walk three times in 10 plate appearances and only record one hit, that's how. The walks are a bit terrifying though, if only because McCutcheon knows
Game 2, 4/27, 4:05 PM PST: Madison Bumgarner (0-3, 7.79) vs. James McDonald (0-2, 10.13)
Pitching Edge: Well, I guess SOMEONE has to win, right? Bumgarner and McDonald are the prototypes for struggling young pitchers early in the 2011 season with some of the worst records in the bigs right now.
Fortunately, one of them will pick up their first win of the 2011 season come Wednesday evening and if I had to guess, well, I'd probably pick a coin. Or go with Bumgarner, who's at least got a single-digit ERA.
Or who has never faced the Pirates.
McDonald's faced the Giants a number of times, however, because of his previous time with the Dodgers. In eight appearances -- only one start -- McDonald posted an 0-1 record with a 3.77 ERA and 11 K's in 14.1 innings. You gotta think that if he can put up those kind of numbers in this matchup, the Pirates stand a good chance of winning.
Opposing Batter to Fear: James McDonald! No, but he does have the fourth-most plate appearances of everyone on Pittsburgh's roster against Bumgarner. Kevin Correia is third-most, if that tells you anything. So we'll lob out Brandon Wood, the newly-acquired third basemen who's got some pop and who might be replacing Pedro Alvarez against lefties.
Game 3, 4/28, 9:35 AM PST: Ryan Vogelsong (0-0, 0.000) vs. Jeff Karstens (2-0, 3.94)
Wait ... who? I kid, I kid. And besides, if Vogelsong's going to have to jump in the rotation, at least let it be against the Pirates, right? (You may have heard: he pitched for them once upon a time, as he was a key figure in the trade for this Jason Schmidt fella.)
Then the key question becomes how he's done in PNC Park, not necessarily how he's pitched against the Pirates, because, as you might guess, he hasn't faced them a lot.
So, some bad news: his record in his career at PNC Park is 5-12 with a 6.27 ERA and a 1.654 WHIP. Yeah, that's not so good. But, hey, maybe he'll be eager to get back "home" and show everyone how he's doing with his "new team."
Or something.
Karstens has faced the Giants twice, starting once, totaling five innings with a 9.00 ERA and an 0-1 record. As you can see, it's a bit of a toss-up when it comes to history. It's probably worth noting, though, that Miguel Tejada's had decent success against Karstens in 14 plate appearances and Aubrey Huff's rocking a 4.000 slugging percentage in two at bats.
Opposing Batter to Fear: Lyle Overbay? I dunno. He's batted against Vogelsong 11 times, even though he hasn't had success. Jose Tabata or Pedro Alvarez could also qualify if you want to pick someone random that's more talented than Overbay.
Fearless Prediction: GIANTS SWEEP. That's right, folks. I think two of these games should be freebies -- both Cain and Bumgarner should pick up wins against an offense that's capable of whiffing double-digit times per game, and there's really no excuse for the Giants not piling up runs against Morton and McDonald.
If Vogelsong can channel his inner talents (he has to have some), and pitch better than Barry Zito (who he's replacing) and show Pittsburgh why he should have stuck around, it'll be time to get out the brooms.