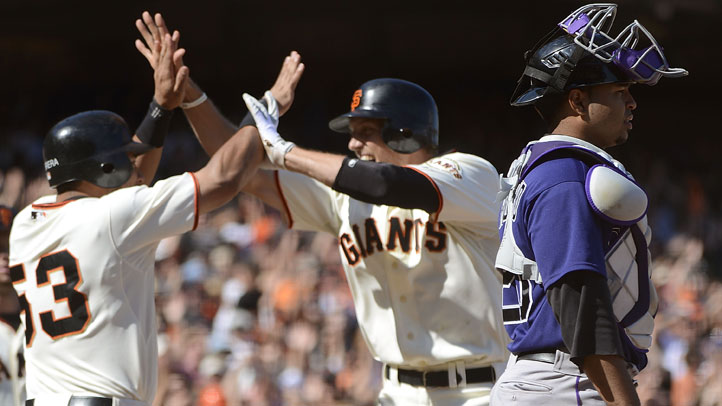 Fresh off a Sunday night victory over the Los Angeles Dodgers, the Giants are 5.5 games up in the NL West, their largest lead of the season.
CoolStandings.com has them as a 95.4 percent favorite to win the division. Life is good for the Giants. But Colorado is an evil, dangerous place, and there's no reason to assume that the division is locked up or to put things on cruise control.
Fortunately, everyone appears to know this.
"Being 5 1/2 up, we like where we're at," Barry Zito said following his win on Sunday night. "We certainly can't rest on our laurels. We have to fight every day, and that's something we've been doing all year."
Now someone just tell Ryan Vogelsong.
Game 1 -- September 10, 5:40 p.m. PT, Ryan Vogelsong (12-7, 3.29 ERA) vs. Alex White (2-8, 5.31)
Vogelsong's struggled badly as of late, going 2-2 with a 10.13 ERA in his last five starts. Those aren't the sort of numbers you want to take into a gopherball shop like Coors Field.
And after making a long string of six-straight innings, Vogelsong's been getting the hook early in games as of late.
"I thought he had good stuff," Bruce Bochy recently told SFGiants.com. "The pitches might have caught up with him. He was working hard out there and his pitch count got up, and that might have taken a toll."
Of course, the good news is that Vogey's going against White, who hasn't won since June 3. That should make everyone feel better, including the white-hot Buster Posey, who's getting serious MVP consideration as of late.
White's pitched against the Giants three times this season, going 0-2 with a 7.90 ERA. Anything resembling a quality start for Vogelsong and the Giants should take this one.
Game 2 -- September 11, 5:40 p.m. PT, Madison Bumgarner (14-10, 3.15) vs. Jhoulys Chacin (2-4, 4.85)
We'd be remiss not to mention it, but it's the return of Marco Scutaro to Colorado! DRAMA.
More important, though, is Bumgarner's recent game against the Rockies: he went six innings at Coors Field back at the beginning of August, giving up one earned run and striking out seven.
He'll need that type of performance to match the sneaky-hot Chacin, who's got a 1.27 ERA in his last four starts (the only starts he has since August 21 when he re-entered the rotation). Chacin did leave his last start after just 3.1 innings pitched, and it looks like the Rockies aren't really letting him get above a pitch count of more than 80.
Which means it's key for the Giants that they force him to throw strikes and don't swing early: doing so will mean he's out of the game earlier and give them more opportunities to score.
Also, is it fair to wonder if Bumgarner's tiring out a little bit? He's given up four earned runs in each of his last three outings. That has to be at least a small concern, yes? (The answer is, in fact, yes.)
Game 3 -- September 12, 5:40 p.m. PT, Tim Lincecum (8-14, 5.21) vs. Jeff Francis (5-4, 5.73)
Speaking of streaking, the Freak is riding a four-game streak of quality starts. And he's got two recent starts against the Rockies that should bode well for his upcoming performance, although oddly enough his start in Colorado was better than his start at home.
I guess that's what happens when guys get to see you pitch two starts in a row, ahem, Bruce Bochy.
Francis last faced the Giants in Colorado on August 4. He gave up six earned runs in 3.2 innings and his longest start since then is 5.2 innings, his last time out in Philadelphia.
Like the rest of the Rockies pitching staff, he's ripe to be taken advantage of. Which is why the Giants should be licking their chops, smelling blood, etc., and trying to roll their momentum into a series win in Colorado.