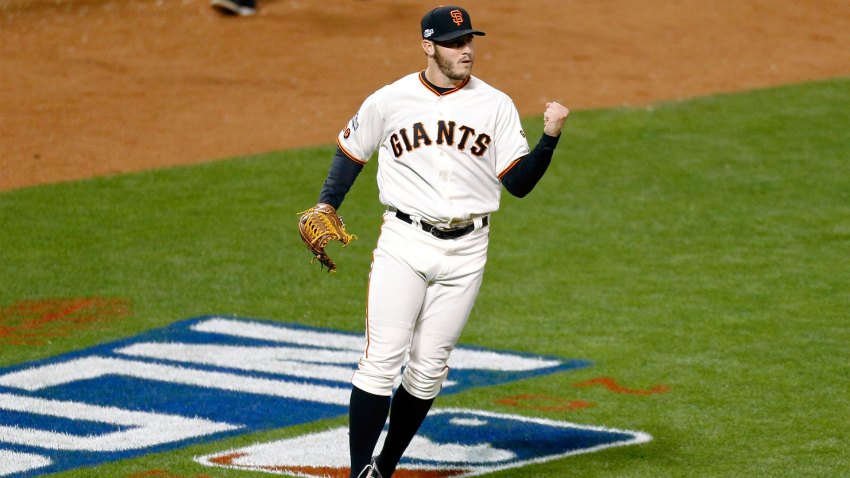 PHOENIX — Jeremy Hellickson is a solid pitcher, a 29-year-old right-hander who posted a 3.71 ERA for the rebuilding Phillies. Most of the general managers who gathered at the Phoenix Omni this week could use a pitcher like Hellickson. Most were also likely terrified by the fact that Hellickson might comfortably turn down the $17.2 million qualifying offer in search of a far bigger deal.
In a market where the likes of Hellickson, Bartolo Colon and Ivan Nova qualify as some of the top choices, the Giants actually have found themselves in a comfortable spot. It's no accident. They did their heavy lifting last offseason, committing $220 million to Johnny Cueto and Jeff Samardzija to get ahead of the game.
At the time, general manager Bobby Evans was looking beyond just the 2016 season. He had little desire to be part of this offseason's bidding wars.
"We were very much aware that this market was not going to be very full of starting pitching options," Evans said. "That's one of the reasons that we went after two in free agency last year and one of the reasons we went after (Matt) Moore at the deadline. Partly we went after Moore at the deadline because we were having trouble getting a closer. In the end that does benefit us now because that's something we don't have to sit back and address. We can focus on really what our needs are in other areas."
First and foremost, that means finding a closer. But while that will come with its own level of expense, it's easier to plug a one-inning hole than a six-inning one. Plus, the Giants find themselves in a relief market filled with options.
Even with last offseason's additions and the Moore trade, the Giants could have been in the market for starting depth this winter. Ty Blach helped change all of that.
The left-hander posted a 1.06 ERA in four September appearances, opening eyes with eight innings of brilliant and fast-paced work in a must-win game against the Dodgers on October 1. In two NLDS appearances, Blach allowed just two hits in 3 1/3 scoreless innings. It's a small sample, but it's backed by a strong Triple-A season. On CSN's Giants Insider Podcast, Evans reiterated that Blach is a frontrunner to win the No. 5 spot.
"Matt Cain is probably the stiffest competition for Blach, partly because Matt has all the experience in the world and he's going to know how to get ready prior to spring training," Evans said. "It's really going to be (about) how the ball is coming out of (Cain's) hand and whether he's able to command his stuff and apply his off-speed stuff in a way that is effective and that he can stay out there and miss bats and keep the ball in the ballpark and stay away from big innings."
Evans admitted that team officials will have "a hard time" evaluating Blach and Cain because of the conditions in Arizona. Veteran starters have for years struggled to get through appearances in the Cactus League, where the dry air messes with pitches and aggressive prospects throw off the ability to set up hitters. Evans said they'll evaluate the two the best they can, and noted there's significant depth behind Blach and Cain. He mentioned former first-rounder Tyler Beede, veteran Albert Suarez, and left-handed prospect Andrew Suarez as options. Chris Heston also should be back from an oblique injury.
"You'll get a chance to see some of our good arms," he said. "We can't forget about what (Chris) Stratton did this year and how well (Clayton) Blackburn pitched. There are some good arms that are going to come into camp."
--- The podcast with Evans touches on a lot of topics, including the Josh Johnson addition, Josh Osich's surgery and season, the Fall League prospects and the young relievers. You can stream it here or download it on iTunes here.
--- A reporter asked Evans about Madison Bumgarner's ability at the plate, and after joking about Bumgarner getting reps in left field, Evans admitted it's not ideal to have the ace pinch-hit.
"I've forced (Bruce) Bochy to have to consider that because in many ways our bench hasn't been as deep as we would have liked," Evans said. "You'd like to not use him that way. Some of that is on me to give Bochy other options."
Evans talked repeatedly this week about finding incremental ways to get better, noting that the Giants are set in the rotation, have most of a young bullpen returning, and have a mostly locked-in lineup. Look for some additional depth options to be added. The Giants could in particular use a veteran with power to complement Trevor Brown, Kelby Tomlinson, Conor Gillaspie, etc.
--- I'm going to be mixing in mailbags this offseason. If you have Giants-related questions, you can send them to me on Twitter here or on Facebook here.
Copyright CSNBY - CSN BAY