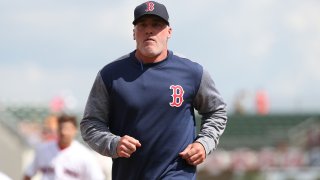 SAN FRANCISCO -- The Giants have quietly spent most of the past month putting a staff together, one they expect to announce in the coming days. One new addition won't be working in a traditional dugout role, but still is expected to make a huge impact on the next generation of Giants pitchers.
Brian Bannister, a former big leaguer who spent the previous five seasons with the Red Sox, will join the Giants as Director of Pitching, NBC Sports Bay Area has learned. While it's unclear what Bannister's exact duties will be, his background is in development and the fact that he's joining the Giants but not as their pitching coach would seem to indicate he'll mostly be working with younger pitchers.
Bannister has been a rising star in baseball circles since joining the Red Sox in 2015. He became their assistant pitching coach a year later and a few months after that added the title of Vice President of Pitching Development. According to NBC Sports Boston, Bannister had an unusual contract that allowed the Red Sox to deny interview requests from other organizations that wanted to make Bannister a pitching coach, something they did repeatedly. In that story, Bannister explained his role and what he liked about it.

"I think I'm kind of in that sweet spot right now where I know what our needs are, and I have the opportunity to work with staff at all levels of the organization to try to produce pitchers at a faster rate to keep that major league product winning on the field," Bannister said. "I'll be scouting one day, I'll be in player development the next day. I'll be in the front office working in analytics on Day 3. And the diversity of the role and the exposure to every aspect of the organization is what's so appealing.
"Because you really start to see on an interdepartmental basis, how each person positively impacts the Boston Red Sox. And then figuring out ways to fill in the gaps. How to get the players from amateur scouting, through player development as efficiently as possible, and prepare them with exactly what they need for the major league staff. That part's fascinating. I definitely enjoy the exposure to everything and trying to add value to everything. And that's probably where my role is unique."
The Giants have been looking to put together a unique staff, one that can focus on development of younger players in Kapler's first year. In that respect, Bannister fits perfectly, but he also has the playing experience that carries so much weight with players who prefer traditional methods.
Bannister finished third in the Rookie of the Year voting in 2007 after putting up a 3.87 ERA in 27 starts for the Royals. That was the highlight of his professional career, as he finished with a 5.08 ERA in five big league seasons.
[RELATED: Why Hjelle stood out to Vogelsong]
A USC grad, Bannister is coming home in multiple ways. He lives in the Bay Area and was born in Scottsdale, where he later starred at Chaparral High, which is about a 20-minute drive from Scottsdale Stadium. When Fox Sports first reported that Bannister would be headed to San Francisco, he thanked his previous organization.
I want to specifically thank Chaim Bloom and Brian O'Halloran - they are incredible leaders and the Red Sox will be in good hands for a very long time. Thank you to the coaches and support staff, it was a privilege winning a World Series with you in 2018 and all the best in 2020.— Brian Bannister (@RealBanny) December 5, 2019
The Giants are expected to announce some staffing decisions over the coming week. The only known member of Kapler's staff thus far is previous third base coach Ron Wotus.
Copyright C