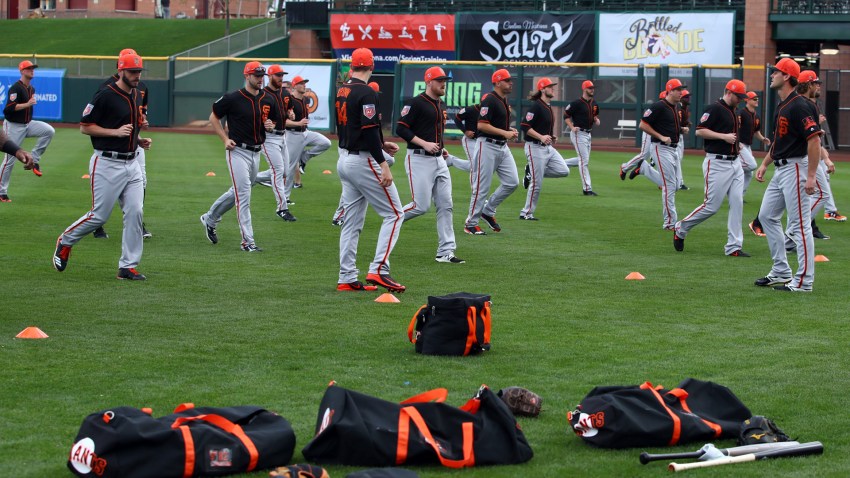 SCOTTSDALE - Ty Blach approached a group of reporters on Monday afternoon and asked for details on the new pace of play guidelines. The moment certainly served as the most surprising moment of the first full day at Scottsdale Stadium.
Few, if any, pitchers in the majors work more quickly in all facets than Blach, who is constantly ready for the next pitch and sprints to and from the mound. He won't have to worry about mound visit limitations, either. Blach never shakes off Buster Posey.
There are other Giants who could have gotten caught up, though. But ultimately, they won't have to worry about making drastic changes for at least another year. The guidelines, released Monday by Major League Baseball, focus on mound visits and limiting time between innings. After a winter spent discussing pitch clocks, MLB decided not to dive into that territory yet. Cory Gearrin, the most deliberate of the pitchers on staff, was never really worried about a massive change to the game. Gearrin is on an advisory board for the MLB Players Association and will replace Matt Cain as the team's union rep. A few days before the new rules came down, he said players were intent on keeping that part of the game the way it is.
"We recognize that we don't want huge gaps and dead time, but I don't think we want to sacrifice the product we're putting out there," Gearrin said. "This is a game that's being played at the highest level and that comes in different ways, whether it's guys quick-pitching or guys that take their time getting into the box. There's a lot of gamesmanship that's going on. We want fans to be engaged and entertained, but we also want them to see this game at the highest level.
"There's ebbs and flows in that. Timing is a huge part of the game, even though there's not a clock. There's a lot of feel that's involved."
Gearrin had the third-slowest pace in the National League last season (Pedro Baez of the Dodgers was, not surprisingly, the slowest) but he said he only received one warning from an umpire, and that occurred after he was slowed because he bent to tie his shoelace. For Gearrin, it's not about his own comfort on the mound; it's about finding the moment when the hitter is uncomfortable. What he's doing works. Gearrin finished with a 1.99 ERA last season.
"People probably look and say, 'Oh, he's very deliberate and takes a lot of time to pitch,' but I also speed up sometimes," he said. "You're trying to get hitters uncomfortable. There's a reason for everything guys are doing out there."
The Giants will hear the new rules firsthand from MLB's Joe Torre on Tuesday, but there's not much to adjust to. Mound visits without a pitching change will be limited to six per nine innings, with each team getting one additional visit per extra inning. Bruce Bochy said he's always been in favor of limiting visits from catchers, pitching coaches and infielders.
"I've said for two or three years that I think that's one of the biggest reasons the game is slowing down," Bochy said.
Inning breaks will also be a little shorter, and a pitcher must deliver his final warmup pitch at least 20 seconds prior to the end of an inning break or pitching change. The league office also will make changes to replay, installing direct slow motion cameras that should help teams make decisions faster, and new phone lines that will monitor communications for sign-stealing.
Copyright CSNBY - CSN BAY