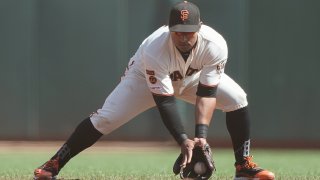 SAN FRANCISCO -- Kevin Pillar wasn't the only Giant to be let go ahead of Monday's deadline to tender contracts to arbitration-eligible players.
The Giants also non-tendered left-hander Tyler Anderson, right-hander Rico Garcia and outfielder Joey Rickard while agreeing to one-year deals with outfielder Alex Dickerson, infielder Donovan Solano and left-hander Wandy Peralta.
The Pillar decision was the surprising one of the day, but president of baseball operations Farhan Zaidi said the Giants wanted to take a look at younger outfield options. That did not include Rickard, a 28-year-old who made 26 appearances for the Giants last year and showed some promise as a platoon option. The sides apparently could not reach a deal despite some optimism as the deadline approached.
Solano, who broke through as a backup infielder in 2019, will be back and should provide depth behind Mauricio Dubon and Brandon Crawford. Peralta, a hard-throwing lefty acquired from the Reds late in the year, should get a shot to win a bullpen job.
[RELATED: Giants reportedly looking to hire Indians infield coach Correa]
Other than Pillar, the most interesting decision might have come with Anderson. The lefty struggled in five starts for the Rockies last season but was a solid back-end starter the previous three years. The Giants claimed him off waivers earlier in the offseason and hoped to lock him up to a small one-year deal that could put him in position to win a rotation spot.
Like Pillar, Garcia and Rickard, Anderson is now a free agent.
Copyright C