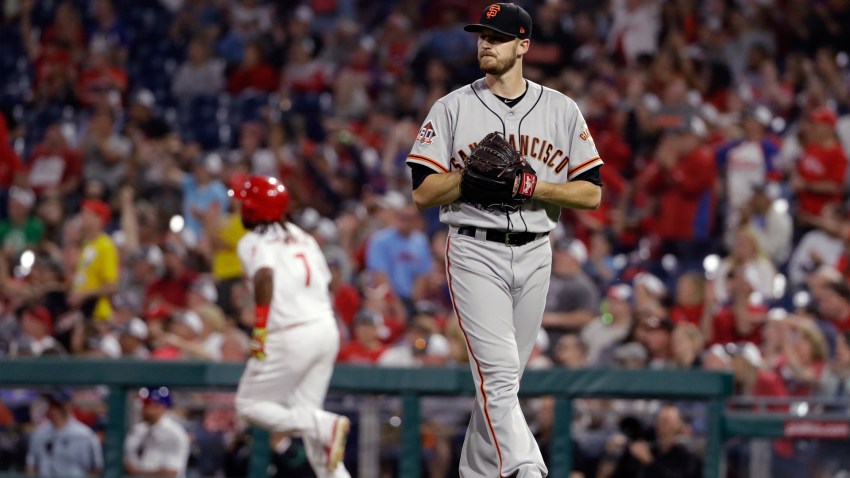 PHILADELPHIA - Somewhere on the short flight from Atlanta to Philadelphia, the Giants forgot how to play reasonable baseball.
Chris Stratton struggled with command and the bullpen followed suit. The lineup wasn't any sharper. The Giants lost 11-3 on their third night in Philadelphia, and thus far have been outscored 26-5 in the series.
The series loss is their first since a trip to Phoenix in the middle of April. If you would like to know more, here we go …
-- Stratton became the de facto ace after Johnny Cueto went down, but for the second time in three starts he failed to get through five innings. The Phillies got two in the first, a solo homer in the fourth, and a walk-fueled rally in the fifth. Stratton walked three in his final inning and Carlos Santana knocked him out with a two-run single to left. After a scorching start to the season, Stratton has come back to earth. He has a 4.60 ERA.
-- Pierce Johnson followed Stratton and walked three in the sixth. He also threw a wild pitch that allowed a run to score. Derek Law followed Pierce Johnson and gave up some rockets. He also threw a wild pitch that allowed a run to score.
-- Brandon Belt's first appearance in left field this season went relatively smoothly. He easily gloved Pedro Florimon's line drive in the second and a hard shot from Nick Williams in the sixth. He also looked comfortable on two singles to left and a double that landed on the track.
-- The Giants committed two more errors. They have made 31 errors this season, the most in the National League. That won't play.
Copyright CSNBY - CSN BAY