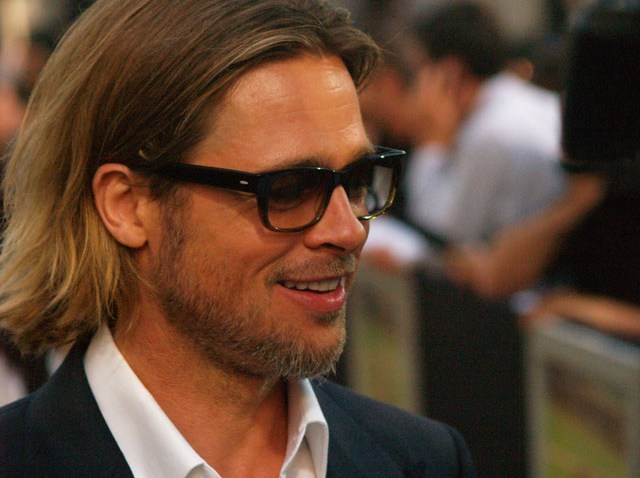 I was face-to-face with Brad Pitt, and I felt proud.
No, not intimidated, like I thought I would be (well, OK, a little. He IS that handsome in person, and even looks rich & famous), but proud that he was strutting his stuff on a red carpet - in Oakland, California.
The premiere of "Moneyball" totally transformed a block of downtown Oakland that, in my youth, was not where you'd want to be hanging out at night. But there it was, the refurbished and gorgeous Paramount Theatre, and there they were, the gorgeous actors, actresses, and paparazzi that normally covers this sort of thing. All to show off Oakland.
The fact that "Moneyball" was written about Oakland's baseball team was the reason I read it on the day it came out. Having gone to lots of A's games during that time, I was thrilled to see it in print, and amazed that they turned it into a movie. And Brad Pitt? Bringing his famous family to Oaktown? Icing on the cake.
What a thrill, then, to see hundreds of people, two streets deep, craning over Broadway to catch a glimpse of Pitt, Jonah Hill, and others. To see Hideki Matsui trading baseball stories with David Justice - hey, remember that game at the Coliseum? Even seeing Billy Beane, who paused from the 4 millionth "What's it like to be played by Brad Pitt?" question long enough to ask an ESPN reporter (there were here, too) what the score was of the A's game.
To see Oakland transformed into a place where a movie premiere happened (complete with a baseball diamond, infield, and bleacher seats built into the area where the stars walked) is amazing. Yes, most people were there to see the stars, and, having covered smartphones and chips for most of my career, I admit, this is a cool diversion, it's still great to have Oakland playing a role in the big event.
So, good on Brad Pitt and the rest of the crew for coming to downtown. We got to feel a little of the Hollywood glitz and glamour. And, who knows, maybe Brad's sitting at a cafe right now, sipping a Blue Bottle latte while listening to his favorite Pandora station, thinking, "Oakland is about the coolest place on earth."
Scott, who is proud of his hometown, is on Twitter @scottbudman