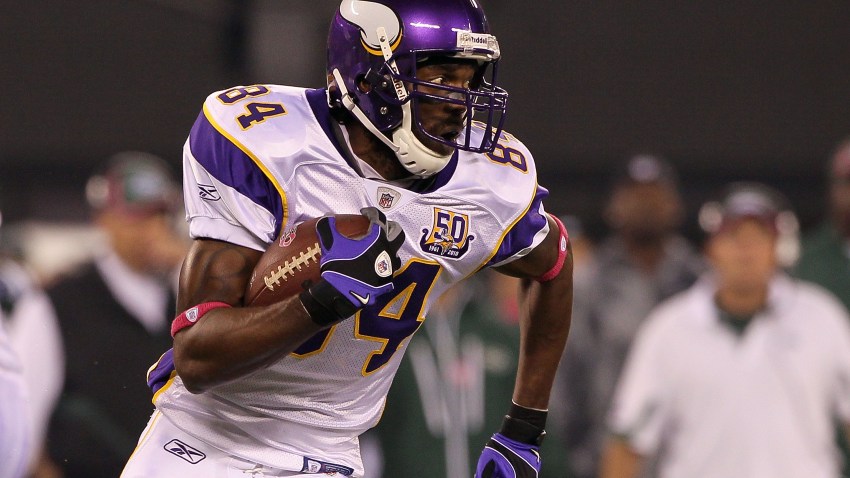 Though the San Francisco 49ers say they did their research on Randy Moss before they signed him, Moss' track record – both good and bad – apparently won't count for much from here on out.
San Francisco head coach Jim Harbaugh, speaking to the Boston Herald Wednesday morning at the NFL owners' meetings in Palm Beach, Fla., said he's going to focus on what he sees and hears from Moss.
The Boston Herald's Ian Rapoport, who spoke with Harbaugh, wrote on his blog, "Asked if it was a risk (to sign Moss), Harbaugh didn't sound like there is much. If it doesn't work out, the Niners can release him with no penalty."
Rapoport also got this long response from Harbaugh when asked what he learned about Moss from other coaches in the NFL before signing the veteran wide receiver, who'd been out of the NFL for a year.
Harbaugh began by saying that whatever a coach says from one of Moss's past stops isn't going to "tell the whole story."
"What's going to tell the whole story is from now, the offseason, through training camp, those day-to-day interactions, how he competes on the field," Harbaugh told Rapoport. "I mean, that's going to determine the reality. What your perception is right now or what Bill Belichick's perception of him was or a different coach is irrelevant right now.
"The reality is, it's going to play out over the next six months and into the offseason, so Randy's got the license and we feel he's got the ability to be a contributor in the National Football League with the San Francisco 49ers.
"I mean, it's that simple. We'll watch it all play out. The man has an opportunity to compete. … "
Harbaugh added that he'd love to see Moss make a big impact with the Niners.
"I'd like to see Randy put a stamp on his great NFL career, possibly a Hall of Fame career," he said.
Earlier in his conversation with the Boston Herald reporter, Harbaugh had sidestepped questions about who he and the Niners had spoken with in the league about Moss before they signed him. When asked if he'd talked to "any coach such as Belichick or (former Vikings coach) Denny Green," Rapoport quoted Harbaugh as saying: "Yes. (Pause.) None of the two you just mentioned. (Pause.) But yes."
Moss, 35, was signed to a one-year deal earlier this month, reported to be worth $2.5 million, with incentives that could take it as high as $4 million, according to ESPN and the Associated Press. In addition to signing Moss, the 49ers also acquired free-agent wide receiver Mario Manningham, formerly of the New York Giants.
Upon joining the 49ers, Moss cited Harbaugh's energy and positive attitude as one of the things that makes him excited about his new opportunity.
"Harbaugh is a young, enthusiastic coach. I love enthusiasm," Moss told reporters after signing.
And Harbaugh appears willing to give Moss a fresh start.
For the time being, Moss – who has 954 catches for 14,858 yards and 153 TDs in a 13-year career – says he's willing to make the most of it.
"It was obvious they liked what they saw," Moss told reporters after working out for Harbaugh (who threw him passes) and signing. "I don't want to let them down."