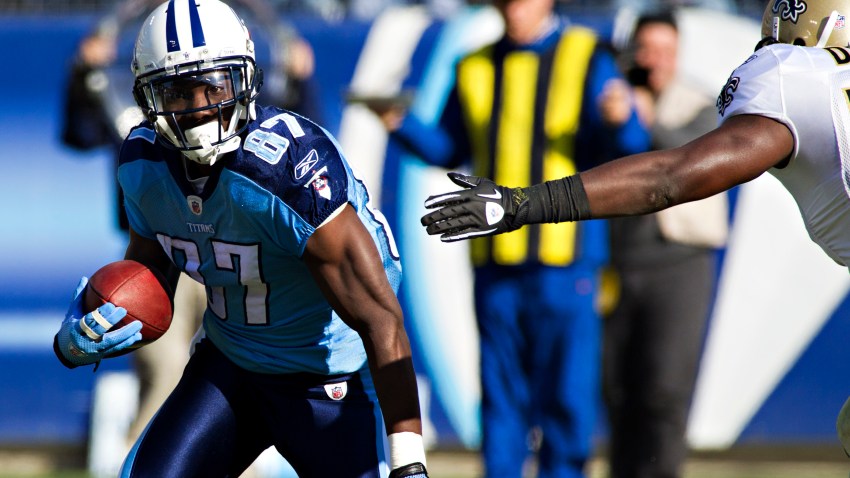 Lavelle Hawkins has been around the NFL long enough to read between the lines.
The sixth-year pro from Cal – who spent his first five seasons in the league with the Tennessee Titans – is caught in a numbers game that doesn't seem to be in his favor as he stands by, waiting to learn if he's made the 49ers' 53-man roster for opening day.
No matter what happens, however, Hawkins has given it his best shot.
On Thursday night in the final exhibition game of the summer in San Diego, Hawkins caught four passes for 62 yards and scored on a 45-yard pass from B.J. Daniels in which he tipped the ball to himself, broke a couple of tackles and outran the Chargers defense.
It capped off a three-game tryout with San Francisco in which he caught seven passes for 104 yards (a 14.8-yard average) and also returned a kickoff 105 yards for a touchdown.
Head coach Jim Harbaugh has been impressed with Hawkins' playmaking ability, but as of now Hawkins is probably the No. 6 or No. 7 receiver on a team that may only keep five.
"The Hawkins play was a highlight play," Harbaugh told the media after Thursday night's game, a 41-6 49ers win. "You like to see him playing his heart out, touching the ball and making touchdowns. Obviously, that bodes well for him. (But) there are a lot of good players at that position. I feel real good about the wide receiver position right now. I love the way they work and love the way they compete."
That wasn't the case in early August, when the receiving corps was thinned by injuries and the Niners signed veterans Austin Collie and Hawkins to beef up their ranks and juice the competition. Soon, however, receivers started getting healthy again, and it became apparent that good players will likely be released.
The emergence of Marlon Moore, Quinton Patton, Chuck Jacobs and Chad Hall this summer has created a logjam. With Anquan Boldin, Moore, Patton, Jonathan Baldwin and Kyle Williams guaranteed spots, Hawkins, Collie, Kassim Osgood, Jacobs and Hall may be axed this weekend.
Also, Hawkins' actions in last week's game against the Vikings may still cause discomfort among the 49ers brain trust. In that game – in which Hawkins returned a kickoff for a score and had a nice catch in traffic – he was penalized twice for unsportsmanlike conduct at the end of the return, first for taunting and then removing his helmet. Harbaugh let Hawkins know on the sidelines he didn't like it.
Said Harbaugh after that game: "He did score a touchdown and had a big catch. He's definitely got to do a better job of not getting emotionally hijacked after doing some great."
Though Hawkins was mostly a bit player in his five seasons in Tennessee, he did get an opportunity to prove himself two seasons ago.
In 2011, he played all 16 games, caught 47 passes for 470 yards and scored a touchdown. In his four other seasons in Tennessee, he never had more than seven catches.
In his brief time with the 49ers, however, Hawkins showed he can make plays.
Even his great performance against the Chargers Thursday night may not be enough, however, to put him on the roster for the 49ers' opening game against the Packers on Sept. 8.