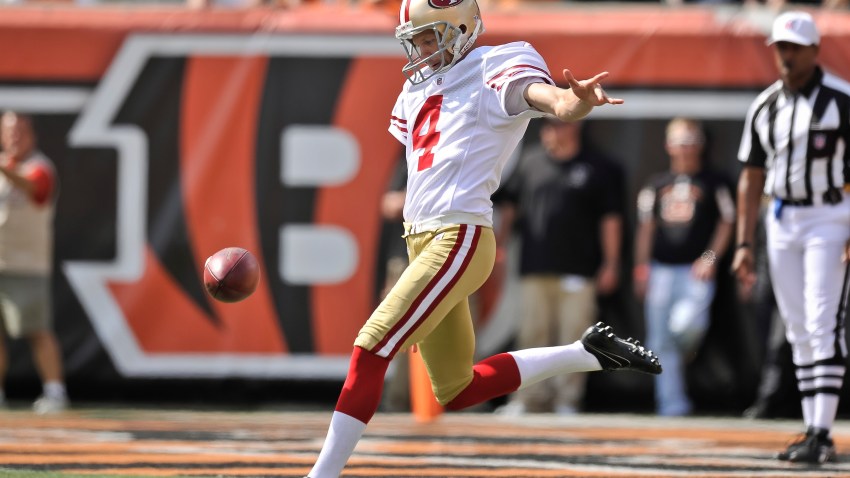 Punter Andy Lee has been a 49er for a long while now. A sixth-round pick in the 2004 draft, Lee is entering his 12th NFL season.
And, he's still very good. In 2014, Lee ranked sixth in the NFL with a 46.8 yard average and ninth in punts inside the 20, with 28 (of 72). Lee, 32, has been to three Pro Bowls.
So it was surprising when the 49ers used a fifth-round choice to take Clemson punter Bradley Pinion in the recent NFL draft.
In speaking with reporters after being drafted, Pinion said he was told there would be "an open competition" for the job. He expressed his admiration for Lee, but added, "Let the best person win."
Niners general manager Trent Baalke, however, gave the nod to Lee.
"It's not Bradley's job," Baalke told the media. "It's Andy's job. It's Bradley's job to come in and win that job."
Yet going into spring camps and summer training camp, Pinion has the inside track in a couple of areas.
First, the 6-foot-5, 229-pounder has skills. At Clemson he had a 42.6-yard average with a 4.1-second hang time, forcing opponents to make fair catches on 44 percent of his punts. Plus, only 2.6 percent of his punts resulted in touchbacks. In his three seasons as Clemson's punter he had 55 punts inside the 20-yard line.
Also, Pinion can do double duty as a kickoff specialist.
But perhaps the best thing Pinion may have going for him – all other things being equal – is that he would be a significantly less expensive option than Lee in 2015 for the 49ers.
As Matt Barrows of the Sacramento Bee wrote this week:
"Lee, the longest-tenured player on the squad, will have to be well ahead of Pinion to keep his job. Pinion's selection has everything to do with the salary cap. Lee, one of the top punters in the league over the last decade, is due to earn more than $2 million this season, and the cost only goes up in the three seasons to follow. He's scheduled to have a base salary of more than $4 million in 2018.
"A fifth-round pick like Pinion will average about half a million dollars in upcoming seasons. Why did the 49ers draft a punter? Follow the money."