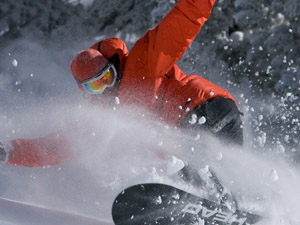 This ski season, if you ski Heavenly you can track how many days and runs you've done, using technology embedded right on your lift ticket. You can also track how much vertical feet you've skied.
Heavenly will use radio-frequency scanners to track your runs. It's being called a first-of-its kind online mobile application.
Riders can check their progress online or using an application called EpicMix on their iPhone, Android or other smart phone. The best news here is that you can use the technology for free.
The only caveat is that there are a few Big Brother privacy concerns.
Vail Resorts CEO Rob Katz says no one sees riders' data unless customers opt in, and the company doesn't plan to share the data with third parties. Riders also can disable the radio-frequency chip.
Skiers and snowboarders who do opt in would have data shared automatically on their Facebook and Twitter updates. EpicMix is taking a page of Facebook's Places and also will let customers know when their Facebook friends are skiing.
If EpicMix catches on, Broomfield, Colo.-based Vail Resorts could potentially reach millions of Facebook friends and Twitter followers of riders whose visits to its mountains will be posted online, without those avid riders updating their statuses on their own. One key market it could reach: non-skiers and snowboarders.
Katz, who tweets regularly, said digital media has been a "huge positive" for the ski business in reaching customers and non-customers alike through location-based media but also sites like Facebook, Twitter and Foursquare.
He touts EpicMix as groundbreaking. "This is taking the real experience of skiing and action sports and marrying it with social media in a way that doesn't require anybody to do anything new. People don't have to take out their phones from their pockets or wear a new gadget," Katz said.
The company didn't reveal costs for launching EpicMix.

Copyright AP - Associated Press