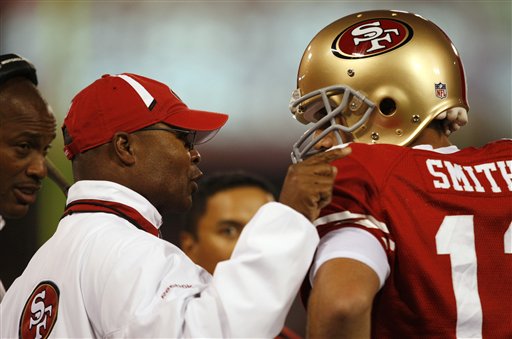 The 49ers had a starting quarterback for their preseason opener, but they still don't have a starting quarterback for the regular season.
Shaun Hill got the nod to open the game against the Broncos Friday night at Candlestick, but after the opening drive he made way for Alex Smith, who finished out the half.
The only problem? Neither quarterback candidate did anything to blow open the competition.
Hill may have led the team on a drive that resulted in a field goal, but only one man was responsible for a touchdown. In the second quarter it was Smith who hooked up with Brit Miller for a three yard strike, giving the Niners a 9-0 lead, after an interception gave the 49ers a short field in which to work.
In just over one quarter of action Smith completed five of seven attempts for 33 yards and the TD, while Hill was a perfect two-for-two for 41 yards and no touchdowns or interceptions.
Those aren't exactly mind-blowing numbers for either QB.
That means Mike Singletary's decision likely didn't get any easier Friday night. The head coach admitted he will need to take a closer look at the film before determining if either quarterback made an impression.
And that basically means no one made an impression.
The best thing to come out of Friday's preseason opener for the Niners' quarterbacks? Neither man was as bad as Denver starter Kyle Orton.
In the first half San Francisco picked off the new Bronco three times, with Nate Clements, Dre Bly and Reggie Smith all benefitting from Orton's mistakes.
Those plays helped the Niners jump out to a 9-0 lead at the half. After the intermission the backups took over and preserved the win, as San Francisco defeated Denver, 17-16.