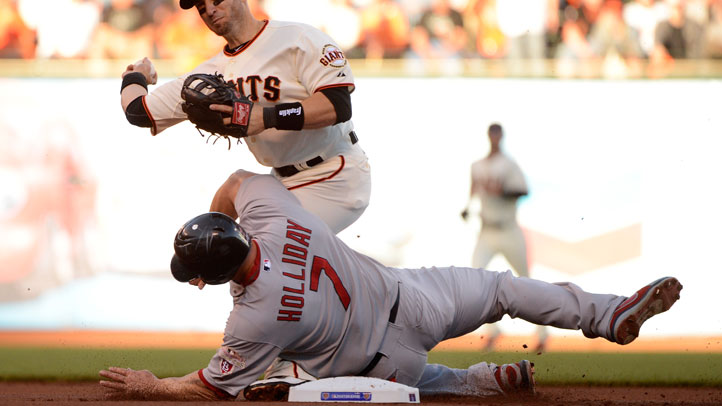 When Matt Holliday "slid" into Marco Scutaro in the earlygoings of the 2012 National League Championship Series, it drew plenty of attention, mainly because it was a dirty play.
Holliday defended himself, the Giants did not and they eventually got their revenge by beating St. Louis and winning the World Series. Oh, yes, and Matt Cain eventually got more direct revenge by plunking Holliday in Game 7 of that series after the Giants were on cruise control.
The Cards outfielder wasn't particularly thrilled with what went down and apparently still isn't over it.
"There are some things I'd rather not say. I think he said that the ball slipped out of his hand and got away from him, that's just part of the game. Honestly, I don't know. It seems on purpose," Holliday said, via InsideSTL.com. "I wish that if he wanted to hit me, he would've just done it on the first pitch in the next game he had pitched. You know, if you're going to do it, do it, get it out of the way. But to do it, I don't remember what the score was but it was out of hand, that's about it.
"I thought the timing of it was….I don't want to get into it. I wasn't thrilled about it."
Awwwww. That's a shame. I mean, the timing of his slide into Scutaro was totally fine though? Maybe Cain added insult to injury by beaning Holliday late, but it's not like the Giants were thrilled with the timing of the outfielder's slide into Scutaro.
And it's not as if the Giants could very well come out and have Cain sling fastballs at Holliday's head during the next game, though apparently that's what Holliday would've preferred.
"If you're going to do it, I think that is when you do it. I wouldn't be happy about it anytime," Holliday said. "I just thought that in the situation that it actually did happen it was less than tough."
Less than tough is kind of a fighting phrase. But it's also the kind of phrase that a guy throws out when he pulls off a dirty move, almost hurts a guy, watches that guy stay on the field and win NLCS MVP all while watching his team cough up a big lead in a championship series and finally get plunked while the series is out of hand.
Oh, and let's not forget that Matt Holliday popped out to Marco Scutaro to end the series in the rain. Perfection ... unless you're Matt Holliday.
So is he still a little mad? Sure he is. Does he have reason to be? Ehhhh, maybe. It really sounds more like Holliday's bitter and he won't let it go.