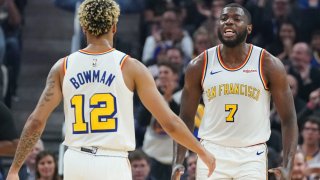 Editor's note: Grant Liffmann (@grantliffmann) is the co-host of Warriors Outsiders, which airs on NBC Sports Bay Area 60 minutes after every game. Each week, Grant will drop his Outsider Observation on the state of the Dubs.
It is no secret by now that rookies Eric Paschall and Ky Bowman have been revelations this season for the Warriors. The expectations were not very high for either player, with Paschall being a second-round pick and Bowman signing with the team as an undrafted rookie.
But in a lost, injury-marred season for the Warriors, both players are giving the front office hope that they can build a more youthful squad next season around their star veterans. To properly understand just how well each player is performing so far for this season, here is a look at how their statistics compare to current Warriors stars' rookie campaigns.
Eric Paschall: 31.7 mpg, 17.3 ppg, 51 FG%, 29 3pt%, 5.4 rebs, 1.8 asts
Ky Bowman: 23.6 mpg, 9 ppg, 45.1 FG%, 40 3pt%, 2.8 rebs, 2.8 asts
Steph Curry
2009-10: 36.2 mpg, 17.5 ppg, 46.2 FG%, 43.7 3pt%, 4.5 rebs, 5.9 asts
Curry joined a poor Warriors squad, perhaps just a little bit better than the current one, and immediately played a high volume of minutes. His efficiency was impressive, rookie or not, and many believe he should have beaten out Tyreke Evans for the Rookie of the Year voting that season.
Paschall is scoring more points per 36 minutes than Curry, and Bowman is shooting the ball at an efficiency that almost resembles Curry's first year, though on much less field goal attempts.
Klay Thompson
2011-12: 24.4 mpg, 12.5 ppg, 44.3 FG%, 41.4 3pt%, 2.4 rebs, 2 asts
Like Curry's rookie season, Thompson joined a bottom-dwelling Warriors team. While he played at an off-guard position, look at how similar his numbers were his rookie year to that of Bowman, who plays point guard.
Other than an increase in points for Thompson due to shooting more often his first year, the two players nearly have identical statistics. While no one expects Bowman to have a career that parallels that of Thompson, it is still eye-catching to see Ky's numbers put into context with a Warriors great.
D'Angelo Russell
2015-16: 28.2 mpg, 13.2 ppg, 41 FG%, 35.1 3pt%, 3.4 rebs, 3.3 asts
Russell entered the NBA with extremely high expectations after being the No. 2 overall pick in the 2015 NBA Draft. He was supposed to be the catalyst for the resurgence of the Lakers franchise.
In the end, many unfairly criticized Russell for an unspectacular season, despite just being 19 years old. D'Angelo's overall field goal percentage has gradually increased as he has gained NBA experience and become a more seasoned player.
Do not forget, now in his fifth season in the league, Russell is just one year older than Bowman and the same age as Paschall.
Draymond Green
2012-13: 13.4 mpg, 2.9 ppg, 32.7 FG%, 20.9 3pt%, 3.3 rebs, 0.7 asts
The comparison to Green's rookie season is not really applicable. Green, a second-round pick, joined a team that eventually would make it into the second round of the playoffs, and so he never really found himself in the regular rotation.
Draymond has never been a traditional player that impacts the game purely based on statistics, so to understand Green's seasons in context to Paschall is unfair. In the end, if Paschall can make anywhere near the overall impact that Green has made in his career with the Warriors, then the team has hit the jackpot.
Copyright C