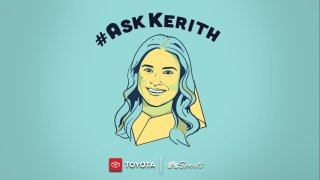 Editor's note: Kerith Burke, NBC Sports Bay Area's Warriors reporter, will take you inside the two-time defending NBA champions as only she can each Friday with the Ask Kerith Mailbag. Send her a question on Twitter using the hashtag #askkerith
Tip-Off
The Warriors' last win came against the Bulls, a little more than a week ago. Tonight, the Warriors will have a chance to end their road trip with a win, or come home 0-5.
The injuries are beginning to fade. The Warriors got D'Angelo Russell, Kevon Looney and Draymond Green back during this trip. Jacob Evans is a "maybe" to play tonight. Damian Lee is closer to returning as well. The issues that come with playing with eight guys will lessen, and give way to new things to learn -- chemistry with a fuller group, substitution patterns and who plays well next to whom.
Game On!
@GJohnde What do you think about Omari's performance so far?
Omari Spellman has been excellent. He's averaging 7.9 points and 5.7 rebounds in 18.6 minutes per game, but his attitude strikes me the most.
His rookie season in Atlanta did not go well. Logan Murdock took a deep dive with Omari, if you haven't read it already. It covers his struggles, how that manifested as over-eating and weight gain and how Omari got out of that headspace to reinvent himself with the Warriors.
What I notice is the high level Omari finds in games. He hustles. He's tough. He summons aggressiveness inside of himself. I get to see his face up close during games, and he looks like a raging bull, like steam would come out of his nostrils if that were possible. Teammates love to play alongside a guy like Omari.
When the Warriors were in Atlanta, Steve Kerr mentioned the Dubs did a pre-draft workout with Omari and came away impressed. The Hawks scooped him up, but he's been on the Warriors' radar. It's fun to see him shine on his new team. His upside is promising and we're getting glimpses of it.
@WillHar18196474 When Looney and Green both play, which of the remaining big men will likely sacrifice the most minutes?
I understand it's a "sacrifice" to reduce minutes, but consider how nice it will be to have more bodies available to give guys a chance to catch their breath during games. You already know who has appeared on the injury report, but everyone is dealing with bumps and bruises as they play. Behind the scenes, guys are using heat packs on their knees or a heated back belt to stay loose.
Kerr explained Looney will play minutes at the four, alongside Willie Cauley-Stein at the five. Loon may also come off the bench, his comfort spot from last season. That means Omari, Marquese Chriss and Draymond Green will feel an impact. The Warriors use their big men in hybrid four-five roles anyway, so this blurring of positions doesn't feel too jarring.
The coaches already are monitoring Draymond's minutes, with 25 or so in mind per game. I feel like everyone else will be happy to adjust to suit the team's needs and get a little relief from heavy minutes when the Dubs were stuck playing with eight men available.
@emilio_mpen Are the @warriors going to win at least 10 games this season!?
For sure. It won't be long until the Warriors have everyone available except Steph Curry and Klay Thompson, both out with long-term injuries. Getting D'Angelo back is instant firepower to help the Warriors win the close games they've been giving up in the final minutes. Looney will be a stabilizing force as well.
While the team has been struggling and playing with eight or nine guys, the minutes coming during this hardship will help. Minutes are experience.
It's true that moral victories are comforting for only so long. The Warriors need results. It would be frustrating to see the progress on film without the W's to accompany what players are learning. No one likes to lose, nor do they want to make it a habit.
@HiiiPowerRevo I'm really interested in the GSW player development branch. Are they going to help the rookies and new draft players extensively this upcoming summer? Also does GSW employ a shooting coach that helps all their players with their shots?
The Warriors have 10 coaches this season, and five of them have "Player Development" in their titles. They are serious about helping this young team learn.
There's not one specific shooting coach. Players pair off to watch film and build relationships. For example, Jordan Poole works with Chris DeMarco. Eric Paschall works with Theo Robinson.
The Warriors will have a lottery pick, but the focus right now is on the talent they have. They're devoting time and resources to bringing these guys along in their NBA careers. By helping them develop good habits early, with attention and patience, the Warriors will have a youth movement set for the future.
@tessde every1 asking serious ?s, so I'll go silly, is it my imagination or are the Dubs' shorts getting shorter & tighter each year?
@debsdavalle #askKerith Is the latest fashion to go towards a short-short look? I think Poole's are the shortest.
It's funny to get these questions, and they're becoming more frequent. Yes, the shorts the young guys are wearing are shorter than the old-school way!
I noticed Jordan Poole cut his warm-up shorts -- yes, cut them with what looked like some jagged scissors -- to make the inseam smaller. Tiny and tight seems to be in fashion.
@TheMisterMann How much of Jim Barnett's shoes has Kelenna Azubuike been able to fill as the new color commentator this season?
I think Kelenna has done a fantastic job. I've heard Kelenna and Bob Fitzgerald in my ear during broadcasts for 23 games now. Some of the losses have been blowouts, but they still maintain a quality broadcast together.
Jim Barnett's playing career began in 1966. His version of the NBA is different than today's game. Kelenna's career ended in 2012, so some of the players he faced are still in the league. I like hearing that insight. That's not a knock on Jim, I'm just saying it's a different conversation.
This is Kelenna's rookie season in the role, but he built up his experience as a broadcaster in studio, on other networks and on the radio. He's ready for this moment. It's not easy to be the new guy and follow a legend like Jim, but Kelenna's personality shines, too.
@evenstrongerps4 What can u say about Klay's performance as a sideline reporter? #SidelineReporterKlay #HeadbandKerith #AskKerith
@DavidGrisar Now that Klay is firmly established as a Media member, does he even need to bother rehabbing?
It was my pleasure to give the mic to Klay Thompson, who was as entertaining and insightful as we thought he would be. What a great night. He truly surprised me by snatching the mic postgame to interview Omari!
I think Klay was serious when he said in 10 years, he'd try his hand in broadcasting. He joked around with Bob and Kelenna about doing their jobs. Like father, like son maybe. Klay's dad is a radio broadcaster for the Lakers.
Whatever Klay wants to do, he'll be successful at it. He'll continue his rehab knowing broadcasting is a fallback career!
High Five
This week's high five goes out to Steve Kerr, who came on the Runnin' Plays podcast with Logan Murdock and I. We didn't want to ask Steve the same old questions. Topics included why he's a Scrooge at Christmas, visiting the pyramids, what makes him sentimental, being a ballboy at UCLA and his definition of an ally.
My favorite parts of this interview include the moment he knew, at age five, basketball was going to be his path, and which game during the playoffs made him cry by himself in the locker room. Give it a listen here, or search "Runnin' Plays" on Apple podcasts, Spotify, or wherever you like to listen to podcasts.
Follow Kerith on Twitter @KerithBurke and on Instagram @warriorskerith, and, of course, watch her on NBC Sports Bay Area's Warriors coverage all season.
Copyright C